The Swinging Bavarians Are Back On Stage At Lakewood Public Library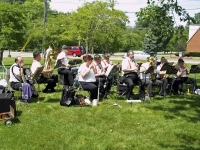 It's time to button up your lederhosen for another Oktoberfest! The Swinging Bavarians, a 14-member oompah band, are arriving just in time to celebrate the season and shake some books off the shelf in our latest Sunday with the Friends program on Sunday, September 23 at 2:00 p.m. The concert will be held in the Main Auditorium.
The Swinging Bavarians were born 20 years ago when a group of musicians from the Al Koran Shriners got together to play tunes from a library of Bohemian Polka and Waltzes. They entered the Shriners' German band competition in 1990 and earned a "Superior" rating that year and for the following 13 years.
Although the group has deep roots in the music of the Germanic region, they also have a repertoire you might not expect from an Oktoberfest style group of musicians including Boogie Woogie Bugle Boy, Sweet Caroline, Pretty Woman, I Can't Get Started - one of the band's favorites-, and Tommy Dorsey's I'm Getting Sentimental Over You. Of course there will also be marches, polkas, waltzes and Ländlers, such as The Happy Wanderer, Die Ambos (Anvil) Polka, Magic Trumpet, Blue Skirt Waltz, Lilie Marleen, Holzkirchner Posauneländler – an Austrian ländler - and Wien bliebt Wien, a tune written for a guitar quartet in the late 1880's Vienna.
Band leader Dr. Thomas Herbell has 70 years of experience playing the clarinet. The Cleveland Heights High School graduate was a member of the band and orchestra there, as well as manager of the band and glee club at Case Institute of Technology, where he earned a PhD in Metallurgy in 1961. After 38 years working on space shuttle technology at NASA Lewis, Herbell is now free to pursue his many musical interests. The rest of the Bavarians are also accomplished musicians who play in a number of bands in Cleveland.
If you want to swing along with the Bavarians, please join us at the Lakewood Public Library on Sunday September 23 at 2 p.m. for the Swinging Bavarians' Biergarten Memories in the Main Auditorium. This musical performance is free. The concert is generously funded by the Friends of the Lakewood Public Library, who welcome one and all for an oompah hour of fun!
Read More on Library
Volume 8, Issue 19, Posted 8:33 PM, 09.18.2012