Director Brings His Film And Anti-Bullying Message To Civic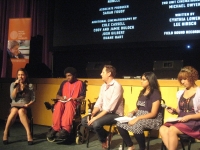 Director Lee Hirsch brought himself and his Bully documentary to town Sept. 6, and more than 1,000 people who were packed into the Civic Auditorium shared the experience of this powerful evening. The Community Conversation, sponsored by Facing History and Ourselves and the Allstate Foundation, included a screening of the movie and a discussion afterward with Hirsch.
Hirsch looked out onto the crowded Civic as he stepped to the podium prior to the film screening and blurted out, "This is awesome!" when he saw how many had come to support his efforts to raise awareness of bullying and find ways to fight it. He shared his own story of being physically abused by bullies as a child and cited it as the reason why he did his film, which follows the lives of three students and their families as they cope with the consequences – sometimes tragic ones – of bullying.
From his own experience, he learned the importance of having at least one adult who will listen. He has also found through his own life and those he has observed while filming Bully, that "if kids are talking about being bullied, assume it's much worse" than they are telling you.
Although disturbing in many parts, the movie ultimately leaves one with a positive message that we can all help ignite change, one person at a time. "We can turn the tide," Hirsch said.
After the film, Hirsch sat to talk with four Lakewood High School students – Darnelle Crenshaw, Jazmyn Paoli, Emma Price and Lubna Quadri – and answered questions from each one as well as questions written down by the audience. Hirsch emphasized that schools must present a united front where every single staff member is on the same page about bullying. The message that it is not acceptable must be clear from the principal on down. "Every member of the building needs to work to create a school that feels safe," he said.
Lakewood City Schools' commitment to bullying prevention is a strong one, evidenced not only by its role in helping to bring the Bully Community Conversation to Lakewood, but also by the recent $10,000 grant Garfield Middle School was awarded to continue its bullying prevention program, which is based on a nationally recognized curriculum, taught at Garfield by Campus Impact. The district is also bringing Rachel's Challenge, a national bullying and violence abatement organization, to Lakewood Civic Auditorium on Sept. 24 to give its presentation on choosing compassion and kindness rather than conflict and aggression.
Hirsch remarked that "it takes an act of community to stand together" against bullying. That night in the Civic, Lakewood was standing together.
Read More on Schools
Volume 8, Issue 19, Posted 8:33 PM, 09.18.2012