Celebrating? Hardly!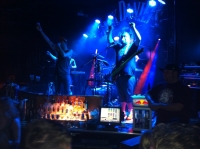 Sometimes when us servers start a night out with an awesome table, it is impossible to go anywhere but way downhill. An exceptionally sweet couple, celebrating 49 wonderful years of marriage, who order exactly the same thing, stay no more than an hour and a half, and show their gratuity, may be the kiss of death. Sure enough it's a Friday night; I think I am in the perfect dinner section and my first table rocks. Tables two and three leave a little less than you would leave the worst snotty bartender and then the worst of the worst strut in and sit at your last open table. This couple appears to be congenial, quite, and reserved to their private conversation. Don't speak too much or demand all your attention. They are dressed nice enough that you would want to chat them up a little more just to find out where she got that awesome bracelet and best of all they seem ready to spend some cash. But in reality these two were not ready to throw down the big bucks on the list of high priced favorites, they had other plans. So as I bustled back and forth to other tables, checked their food, ran their food, got them fresh drinks from the bar, checked back to see how much everyone was loving their meal, and finally took my first break to the ladies room in five hours, I come back into the dining room to find that my quite table had skipped out on their bill and not said a word to any staff member on the way out. Really? I've been working as a server in the same restaurant for 4 years. Never have I ever seen such a thing. I didn't have to pay the tab, just lost out on the tip but let me tell you this gave me the perfect excuse to get a little crazy!
Where better to head than Lakewood's "Been Everything" tap house? Avenue tap house on Detroit was always known to me growing up as a hole in the wall little Lakewood bowling alley... than bowling alley with large bar... than bowling alley with bar and pizza place... now bar slash concert hall slash pizza place. Though you can get dollar a slice Guys Pizza next door, Avenue may not be for the person on a drink budget. Paying a different amount for well vodka soda every time I approach the bar irks me as much as bad service. But as much as I miss the bowling and I dislike the lack of control on drink prices, I do love that I can, at least every couple of months, catch the best cover band in Cleveland rocking out on the bar stage.
Tricky Dick and the Cover Ups, crude seeming name and all, bring a smile to my face and popularize lively dancing from my friends and me every time we catch a show. Now our personal dance moves may not be as fresh as lead singer, Tony Howard's "Dougy", but his energy and encouragement to let go and get down, makes everybody in the crowd at least get the hip sway going. The band of four outgoing fellas seem to always be having a ton of fun and even with a set routine and order of songs, I feel like I am seeing a different show every time. Tricky Dick can be seen playing locally just about every other weekend but have been lately venturing for new venues and private events more and more often. If there is ever a question to where they are playing a quick stop to their website or Facebook page will lead you to upcoming events and maybe a new favorite Lakewood bar.
A toast went out that Friday night to the couple who skipped out on their bill knowing justice will one day find them and a toast also to Tricky Dick and the Cover Up for always providing that needed element to excel to the level of rock out we all need on the weekends.
Laurie Sanders
25 year old Lakewood native.
Read More on
Volume 8, Issue 19, Posted 8:33 PM, 09.18.2012