Lakewood Public Library Performance: Tracy Marie And Friends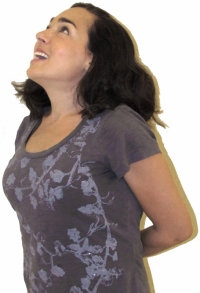 Lakewood's own Tracy Marie has a wail that will knock you off your feet and pick you back up again. Recognized as an integral part of Cleveland's music culture time and again, she returns to bring her distinct mixture of rock, blues and jazz to Lakewood Public Library for the first fall Sunday with the Friends at 2 p.m. on Sept. 9 in the Main Library Auditorium.
Marie began playing her first instruments as a young child and hasn't stopped since--- producing three albums, writing more than 100 songs and performing her original music which spans the styles of rock, alternative, pop, folk, blues and country alongside some of the most talented musicians in Ohio. For Sunday with the Friends she will be joined by musicians Mike Barrick, Carl DeScott and Mike Jacobs.
Tracy Marie was recognized by the Rock and Roll Hall of Fame and Museum with her nomination for the Rock Hall Riot Girl Award in 2008. She has also been recognized by Scene with numerous nominations for best singer/songwriter and vocalist in Cleveland.
"My musical inspirations are those who I have been in bands with, been taught by, loved by, hated by, angry with, in love with… As far as my favorite national bands that I have been exposed to, that would be Heart, Pink Floyd, Pretenders, Eagles, everything classic rock and beyond. Also, 90's divas such as Fiona Apple, Alanis, Sheryl Crow, Jewel. In the 80's it was Madonna and Cyndi Lauper," Marie, who performed in a Heart tribute band, told Northcoast Voice Magazine.
In addition to performing and producing, Marie is concert promoter and director of the annual Breastfest Cleveland concert, which partners with the Cleveland Clinic to support breast cancer patients in financial need.
Sunday with the Friends takes place nearly every Sunday at 2:00 p.m. These programs, featuring musicians, actors, dancers and scholars, are free and open to everyone thanks to generous funding from the Friends of Lakewood Public Library.
This free event will be held at Lakewood Public Library at 15425 Detroit Avenue in the Main Library Auditorium. Visit www.lakewoodpubliclibrary.org/friends for more events. No registration is needed. Call (216) 226-8275 ext. 127 for more information.
Read More on Library
Volume 8, Issue 18, Posted 9:58 PM, 09.05.2012