Lakewood Women's Club Sponsors Raffle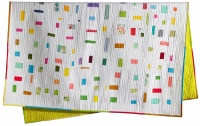 The Lakewood Women's Club kicked off a raffle to benefit Lakewood Community Services Corporation at the Lakewood Arts Festival.

Featuring a beautiful confetti quilt, hand-made by Stitch Cleveland, the Lakewood Women's Club hopes to raise $500 for LCSC, which works to provide emergency food assistance, job assistance, and referrals to agencies for rent and utility assistance.

"The purchase of a raffle ticket will help LWC support LCSC and the much needed work they do to help struggling families in Lakewood," says Heidi Massingill, owner of Stitch Cleveland. Ms, Massingill contacted LWC and suggested the idea of partnering to raise money to benefit Lakewood families. The Modern Sewing Social, which meets monthly at Stitch Cleveland, created the quilt and lovingly donated it to the cause.

Raffle tickets are available until October 26. If you would like to purchase raffle tickets, please stop in at Stitch Cleveland at 18117 Detroit Avenue, at Lakewood Community Services at 14230 Madison Avenue, or contact any member of the Lakewood Women's Club. The cost of each ticket is $2.00, or 3 for $5.00. For more information, please email lakewoodjuniors@gmail.com.

The winner will be drawn on Sunday, October 28, at the Eighth Annual Pumpkin Fun Run, following the race at the Women's Pavilion at Lakewood Park. Winners need not be present.

About Lakewood Women's Club: Founded in 1962, with roots going back to the early 1900's, Lakewood Women's Club (formerly known as Junior Women's Club of Lakewood) has provided, and continues to provide, a philanthropic organization for women who are interested in serving their community while enjoying programming geared to fun and friendship. The Club supports Lakewood through three distinct programs: an annual scholarship awarded to a female high school senior pursing a higher education; funding for Project H20, Help to Others, a program dedication to strengthening and enriching Lakewood by engaging its youth as community builders; and support of a Lakewood based non-profit organization selected by membership through an application process.
margaret wetzler
Life long Lakewood resident, home owner, good neighbor, avid weed puller, and vice-president of Lakewood Women's Club
Read More on Non-Profit
Volume 8, Issue 17, Posted 11:00 PM, 08.21.2012