Lakewood Student-Athletes Make Great Buddies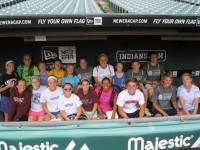 We all need a buddy every now and then. On July 28, at Progressive Field for the 12th Annual Northeast Ohio Buddy Walk, my daughter had a whole team of buddies to support her. The Buddy Walk is a one-mile walk with the purpose of promoting acceptance and inclusion of people with Down syndrome, the most commonly occurring chromosomal condition.
Kellyn Donahoe is my eight year-old daughter, who happens to have Ds, so our family has participated in the Buddy Walk for years. This summer, thanks to many Lakewoodites, this walk was our most memorable ever. Our team, "Crazy for Kellyn," grew in size with the participation of some second grade classmates and numerous Lakewood High athletes. They came to support and encourage Kellyn with the same level of enthusiasm they see from her in their classroom and in the stands during a game.
For all of Kellyn's schooling, she has been in a general education classroom, allowing her to learn alongside her peers, build friendships and make significant academic gains. For most of Kellyn's life, she has also been attending soccer and basketball games at Harding, Garfield, and Lakewood High. She is an avid fan; when the game ends, she is usually the first to greet many of the players with personalized handshakes, high-fives and exuberant hugs. On a Saturday morning in the middle of the summer, her Emerson classmates and high school soccer and basketball players seeking a break from summer conditioning could decide to sleep in. On one special Saturday in July, however, these Lakewood students made a different choice and instead went the extra mile to help raise funds, celebrate friendships, and make one little girl feel like she was the MVP of the day.
Thanks to the Lakewood buddies who participated in making our walk truly special. Until next year's Buddy Walk, Kellyn will see you in the classroom, in the stands, and out on the field or court, eager to share a celebratory handshake, high-five, or hug.
Sandy Donahoe
Sandy Donahoe is a former Lakewood educator and the mother of five children, the youngest of which has Down syndrome. She is a board member of the Up Side of Downs, a local non-profit whose misssion is to provide support, education, and advocacy for individuals with Ds, their families, and communities.
Read More on Schools
Volume 8, Issue 17, Posted 11:00 PM, 08.21.2012