Sommerfugl Takes The Stage At Lakewood Public Library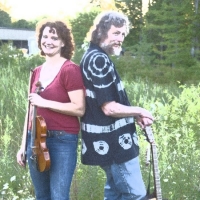 With warm harmonies and soft-hearted rhythms, a concert with Sommerfugl brings to mind a perfect summer evening. If a butterfly floats into your reverie, you'll have it just right, because Sommerfugl (pronounced summer fool) is Danish for butterfly. On Sunday, August 12 at 2:00 p.m. Lakewood Public Library beckons you to come dream with William Drake and Holly Overton as they perform love songs, torch songs, duets, originals and other surprises as part of our Sunday with The Friends series in the Main Library Auditorium.
From Rachmaninoff to Dylan, Sommerfugl brings out the strength and tenderness that lies at the heart of each piece of music they play. Experience plays a large part in their versatility and skill.
William Drake has been performing with his guitar in and around Cleveland for 33 years. You may know him from The Smokin' Fez Monkeys, where he first met Holly. Holly Overton is also a veteran of the local music scene and a classically trained violinist to boot, who has been seen around town with fiddle in hand playing bluegrass, blues, jazz, rock and roll and of course, classical.
So mark your calendar August 12 to spend an hour on a summer's Sunday with Sommerfugl. The concert will be held at 2:00 p.m. in the Main Auditorium. This Sunday with the Friends Program is generously funded by the Friends of Lakewood Library. And as always, it is free and open to the public!
Read More on Library
Volume 8, Issue 16, Posted 10:20 PM, 08.07.2012