New Computer Classes Coming This Fall To The Lakewood Public Library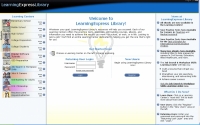 The Lakewood Public Library has a new season right around the corner and with it come some big changes to the Learning Lab Classes.
Beginning in September, the Library will still be offering classes on Internet, email, job search and business software skills; however in the redesigned format we want to make sure you have the tools and the confidence to continue learning these skills after the class ends.
To give you time and a space to practice on your own we will also be offering a three hour Learning Express Library and Career Accelerator workshop. This is time that can be used for any educational purpose with the bonus of having an instructor nearby to help. The Learning Express Library is a valuable tool that has tutorials for many popular software programs as well as GED prep, workplace improvement lessons and much more. It is also home to the Career and Job Accelerator. This application helps not only with the process of finding the perfect job but with designing your resume and cover letter to grab the attention of potential employers.
Reservations for classes are now available one month ahead of the date of the class. Look out for the Lakewood Public Library Fall and Winter Program Guide for a detailed listing of classes and times. Call 216-226-8275 ext. 127 for more information.
Morgan Maseth
Writing for the Lakewood Public Library
Read More on Library
Volume 8, Issue 16, Posted 10:20 PM, 08.07.2012