Library Transversion Poetry Contest Winner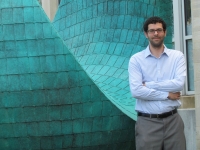 Did you hear it? Many talented writers responded when Lakewood Public Library put a call out for words stirred loose by the sculpture in front of the Main Library. But Lakewood resident Tom Baskerville Rowland's poem, inspired by the newest Lakewood landmark, is our winner.
"There's something about Transversion, the new sculpture by Peter Diepenbrock on the Main Library's northwest lawn. We see it every day on our way into the Library and it stirs something inside of us—but we can't quite put it into words. What is it?! Surely somewhere in this city of dreamers, builders, and teachers there must be some poets. To find that person—and to put words to the images conjured by Diepenbrock's bronze and steel—the Lakewood Public Library is sponsoring a poetry contest," --- Lakewood Public Library Program Coordinator Ben Burdick.
Rowland's poem, the poems of our ten honorable mentions along with other images and items commemorating Transversion will be part of a free book to be published by the Lakewood Public Library late this fall. The other winning poems are by Jack McGuane, Christina Mack, Robert Harmicar, Edward Verhosek, Jonathan Tarase, Joan E. Brown, Judith Diroky, Bill Knittel, Bree Zlee, Kimberly Steele and Eva Xanthopoulos. As the winner, Tom received a gift card to Players on Madison compliments of the restaurant.
"It's easy to anthropomorphize when encountering a new object and that's what I did with the sculpture. I asked: how is this human? I saw a golem, capable of bringing both prosperity and great misfortune to the City. And I saw a seed that had defied plant hood in order to grow into a work of art, preserving its youth," Rowland said.
Transversion is the work of artist Peter Diepenbrock. The sixteen feet of textured bronze and stainless steel sits on the northwest lawn of Lakewood Public Library. The piece was commissioned by the Lakewood Public Library Foundation without a single tax dollar. To learn more about the Lakewood Public Library Foundation please visit http://www.lakewoodpubliclibrary.org/foundation. To see the sculpture installation visit http://www.youtube.com/wgolpl and check out our amazing time lapse video. To learn more about the many pieces of art at Lakewood Public Library visit www.lakewoodpubliclibrary.org/art.
Transversion
By Tom Baskerville Rowland
Having escaped its husk, the good seed
Spread up from Lakewood grass, it gasped
Coming out in bronze strokes, in sunlight,
Like new earth it stood, with a steel truss
Of twisted hands, waiting to be mapped.
It gulped. It waited for benediction.
It stood a bit doleful at first, offering
Both hands dramatically to the sky, an
Odd and quiet plant dreaming in its vase, a
Newcomer painted the green of old wars, then
Like an empty pew, it would appeal to lost souls—
You might see them in reading rooms or walking
Hunched in hoods and wool layers on Detroit,
Softly as they go, they might quote Bellow,
"More Die of Heartbreak" and think of someone
Long gone and watch the Transversion—
A child pulling a new face each second,
It isolates, connects, restores us
Like music in a lonely car.
Read More on Library
Volume 8, Issue 16, Posted 10:20 PM, 08.07.2012