LHS Grad Boland Sings Way To Ohio-Idol Title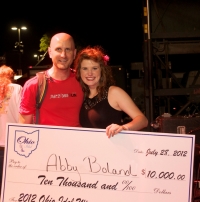 Lakewood now has its very own Idol champion as recent Lakewood High School graduate Abby Boland has won the inaugural Ohio-Idol competition along with $10,000 and a recording contract.
Boland, who graduated in June, was crowned champ at the competition's Grand Finale performance July 28 at the Ohio State Fair. As winner, she will have the honor of singing the National Anthem at the Cleveland Indians vs. New York Yankees baseball game on August 24 before a national TV audience. She will be able to record a CD with a professional recording studio in Columbus
Ironically, Boland didn't even make the top 10 originally. She was the alternate at number 11 and when she got the call from competition organizers at midnight on July 4 that someone in the top 10 had dropped out, she scrambled to be ready to join the competition the next day in Wellington.
"I was truly in shock when I won. I really didn't expect it and neither did anyone else since I was the underdog the whole time," said Boland, who believes her rendition of Celine Dion's "It's All Coming Back to Me Now" was what clinched it with the judges. "I could just see it on their faces," she said.
Boland honed her singing skills through the music education program of the Lakewood City Schools, singing in choirs since elementary school and continuing with the Lakewood High School choir program, which consistently wins top ratings in state competitions under recently retired director Lisa Hanson. She also took vocal lessons at Lakewood's Vance Music Studios for many years and played lead roles in a number Lakewood High Barnstormers Drama Club musicals such as Jesus in "Godspell" and Audrey in "Little Shop of Horrors."
More than 600 aspiring singers entered the contest back in early June. Singers were evaluated by six judges in each round according to technique, performance, appearance, staging/choreography and overall impression.
The competition began on June 9 with an a cappella round that whittled the contest down to the top 100. Round two the following week narrowed the field to the top 50 and round three brought it down to the top 10. That group then traveled the state performing at various county fairs throughout July and finished the competition at a grand finale performance at the Ohio State Fair on July 28, where Boland was crowned champion.
The idea of Ohio-Idol came from In Tune Promotions CEO Steve Wise, who wanted to find a way to highlight the talent of Ohioans and give them an avenue to continue to perfect their performance act as well as gain valuable feedback from professionals in the music industry. The competition was open to any Ohio resident age 12 and older.
Boland and the rest of the top 10 finalists will now embark on a yearlong tour of the state, including a stop at the Cuyahoga County Fair on Aug. 8. Boland credits her dad, Dean Boland with urging her to enter the competition. She also says her four years at Lakewood High helped her forge a confidence in herself that allows her to try something new and unusual.
"LHS gives you the chance and the confidence to be different," she said. "It gives you a safe environment to let you be who you really are." She also said that confidence in herself has led her to want to move to New York City after her Idol tour and try and build a songwriting and performing career.
Read More on Schools
Volume 8, Issue 16, Posted 10:20 PM, 08.07.2012