Lakewood Students Need You!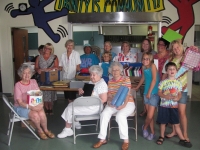 Believe it or not, it's that special time of year again. Children seem to dread it and parents secretly enjoy it: Back to School. While most of you probably remember the excitement of picking out new school supplies, there are many of our students' families who are unable to afford these basic items. That is where the Lakewood Family Collaborative, the Lakewood School Supplies Initiative (LSSI) and you can work together to ensure all children receive the best possible education.
The Lakewood Family Collaborative is a group of agencies, organizations and concerned individuals working together to make sure a network of services and supports are available and accessible to children and families in our community. Out of that commitment, the LSSI was created. This group was formed when a gap was discovered in providing school supplies to those students most in need. There are currently other organizations doing a fantastic job generously supporting Lakewood K – 5 students with school supplies. However, there is only so much they can do based on the incoming requests. Our Lakewood Middle Schools and High School have plenty of students who will fall behind in academics due to lack of school supplies.
Last summer, the community came together to provide over 300 students at Garfield, Harding and Lakewood High School with the supplies needed for academic success. Additionally, Trinity Lakewood Community Outreach (TLCO) secured a grant from Thrivent for Lutherans allowing LSSI to purchase 10 scientific graphing calculators (a $100 calculator required for the higher maths to be part of a permanent math library at LHS).
This year over 1,500 students qualify for free and reduced lunch at these three schools. We firmly believe all students should have the opportunity to learn regardless of need. It has been proven that a student starting their school year off with all of the tools they need will have a better chance at a successful academic year. It is far too easy for these students to fall into the cracks and drop off the academic track.
Once again, we look towards the Lakewood community to assist in supporting these students. In particular, the following items are most desperately needed for our Lakewood students:
Loose Leaf Paper
Pens (blue/black)
Pencils
Pocket Folders
1" and 1 ½" Binders
Notebooks
Calculators (TI-30X)
Combination Locks
Pencil Pouches
To be ready for the start of the school year, on August 22nd, it would be greatly appreciated to receive the items by August 15th. They can be dropped off at the following area businesses:
Goddess Blessed, 15729 Madison
PNC Bank, 14205 Detroit
YMCA, 16915 Detroit
Lakewood Recreation Department, 1470 Warren
The Root Café, 15118 Detroit
If you are unable to drop off any school supplies by the 15th, don't worry! We are accepting donations at The Lakewood Recreation Department throughout the entire school year. One of LSSI's goals is to maintain a 'supply closet' stocked for the entire year as classroom needs can change between the semesters.
In addition, if you don't have time to school shop we have 3 new easy ways to participate:
Join us at Jammy Buggars on Tuesday, August 7th. 15% of your food purchase (lunch, dinner or take out) will go towards the LSSI fund.
Donate through Facebook. The Lakewood Family Collaborative's Facebook page has donate buttons at a number of different amounts.
Write a check to: The Lakewood Foundation, with LSSI in the memo, 16024 Madison Avenue, Lakewood, OH 44107.
All supplies will be available through the schools' guidance counselors. Families interested in getting supplies should leave a message with their counselor and supplies will be distributed the first few weeks of school:
LHS Jeanne Hoopes 529 4141 jeanne.hoopes@lakewood.k12.oh.us
Garfield Mary Kay Marcuse 529-4186 MaryKay.Marcuse@lakewood.k12.oh.us
Harding Emily Atkins 227-5784 Emily.Adkins@lakewood.k12.oh.us
LSSI committee thanks our collecting partners: Lakewood United Methodist Church, Lakewood Presbyterian Church, CrossPoint Church, The Lakewood Women's Club, Trinity Lakewood Community Outreach, H2O, Lakewood City School District, all of our collection sites and the greater Lakewood community for their unwavering commitment to our children's success. LSSI can be contacted at lkwdschoolsupplies@gmail.com.
Karen Lee
Karen M Lee. Lakewood resident since 1999
Read More on Non-Profit
Volume 8, Issue 16, Posted 10:20 PM, 08.07.2012