Clicks to Bricks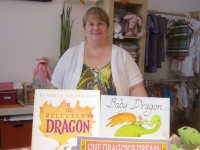 Paisley Monkey is a happy place! The cutest of kids' stuff is displayed against a backdrop of cheerful colors and shoppers are encouraged to make themselves at home. Owner Tamara Racin says her major pleasure as the store's proprietor is watching parents interacting in the shop with their children—discovering new books and reading together, testing out creative toys, or having a tea party at the little table in the children's play area outside the dressing room. She enjoys sharing in the fun, and some days drinks many cups of tea.
Tamara also loves looking for new products, and is always in search of US-made merchandise. Paisley Monkey doesn't carry anything electronic, specializing instead in toys that foster creativity—puzzles, interactive games, books and art projects. The clothing lines are both fanciful and practical, but definitely not run-of-the-mill or boring. There is also a selection of unique greeting cards.
When Tamara and her husband Tom Mohney decided to open an online store in 2005, their first intent was to feature products for pets to adults. Their research, however, caused them to be captivated by the fantastic array of kids' items, and lead them to focus on children. So they developed a thriving internet business that they operated out of their Lakewood home. The online store still exists, and offers many items not available in the store, at www.paisleymonkey.com.
Three years ago, a contractor who was working on their house asked if they were going to participate in the Citywide Street Sale. Tamara contacted LakewoodAlive for more information, and Shannon Strachan suggested she team up with an existing merchant for a "pop-up shop" at the event. Tamara set up a tent in the parking lot of Lakewood Garden Center, and was convinced by the response that a brick and mortar store should be in their future. She and Tom began looking for space everywhere, including Cleveland and Rocky River, but Mary Anne Crampton, then executive director of LakewoodAlive, pursued space for them in Lakewood. They first opened in a tiny storefront on Warren, which they quickly outgrew. Paisley Monkey is the kind of specialty shop that makes Downtown Lakewood such an intriguing place to visit. You'll find them now at 14417 Detroit, between Marlowe and Lincoln. Just look for the adorable kids' clothes in the window!
Read More on Business News
Volume 8, Issue 16, Posted 10:20 PM, 08.07.2012