Which Elementary School Will Close: Update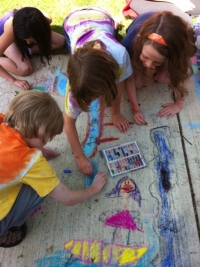 I have gotten some responses to my article entitled, "Which Elementary School Will Close?" indicating that some readers are confused about just what's supposed to happen in August regarding the District's decision to close a school.
Right now we have 7 elementary schools, 3 of which are unrenovated. A budget cut proposed by Superintendent Patterson is the closing of one of the three unrenovated schools to save money. My article looked at the three schools in terms of number one, cost savings: which school's closing would save the most money? (Determined by which buildings cost the most to maintain, which school is the most deteriorated in terms of the building's condition and the amount of money necessary to bring it up to 2012 standards.)
I also looked at the placement of the schools in terms of population density around each school, in order to keep schools near where the most families live in order to preserve the shortest, safest walks for the largest number of children.
The third thing I looked at was the academic health of the schools being considered, as an indication of what would be lost, noting that two of the schools were THE TWO highest performing schools in Lakewood. In other words, not the ones you want to close.
The confusion may come from the fact that a couple of years ago, Lakewood's Board of Ed was working with the Ohio School Facilities Commission (OSFC) on "Phase Three" of obtaining funding to renovate our schools. The State at the time would pay for a little less than a third of the cost of the rebuilding. The OSFC evaluated the population of school children and determined that Lakewood didn't need seven elementary schools; we could function with six. They didn't say that we HAD to close one, only that they would not kick in their less-than-one-third of the rebuilding costs on one of them. A controversial decision was made by the School Board at the time leaving much of the community wondering what criteria the members of the Board at that time used for making this decision.
Time has run out on that decision. Other Ohio districts outranked Lakewood in need and "our number didn't come up" in time. Now in order for Lakewood to partner with the State of Ohio in renovating our remaining elementary schools, the OSFC has to come back and start over. This is especially significant in light of two factors: 1) the elementary population of Lakewood has grown and the District could possibly qualify for state assistance on all THREE schools. And 2.) Now the School District is facing a 12 million dollar debt making it crucial that the right decision is made, because the wrong decision will be literally taken out of our children in terms of their losing programs and having fuller classrooms. We are already cutting programs, buying fewer textbooks, losing teachers-- saving a couple hundred thousand here, fifty thousand there. How could the Board make a decision that would require us to pay millions more than necessary and at the same time, continue to ask us to tighten our belts as they continue to cut into the programming that makes this School District so special?
Whatever goes on with that discussion, the discussion about closing an elementary school for the purpose of saving money is a separate one; a point that our Superintendent has been very clear about. It is being studied on its own merits and from every angle.
A recent development is that at their yearly retreat, the Board and Superintendent Patterson discussed putting the August closure of one of our elementary schools on hold. He expressed the concern that the population of students is growing, and that it might be premature to lose any more of our elementary schools right now. Over-stuffed classes are not what our families want. Having our 5th graders forced to go to middle school because they don't fit in our elementary schools is another scenario our families do not want to consider.
It is a couple of years since the last school-closing discussions, we have a new Superintendent, new Assistant Superintendent, new Treasurer (as of this month) and new members on the School Board. Thus far, they have proven to be a very hard-working, responsive, and effective team. This latest discussion is encouraging.
To view or participate in the ongoing discussion concerning this issue, go to the Lakewood Observation Deck at http://www.lakewoodobserver.com/forum/viewtopic.php?f=7&t=11086.

Read More on
Volume 8, Issue 15, Posted 10:49 PM, 07.24.2012