The American Experience... Woody's Mandolin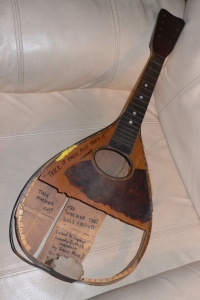 Happy 100th Birthday, Woody!

Woody who? Which Woody? Well, the person in question would be Mr. Woodrow Wilson Guthrie, although I have it on pretty good authority that Woody would probably have taken serious umbrage if anyone would have called him "mister."

Woody was a man who often defied categorization and had a universal attraction to the whole human family. When he was hospitalized, he was reportedly asked what his religious preference was. His response, supposedly, was "all." When the registrar pressed for something more specific, Woody is said to have told her to list either "all"... or "none."


Woody was born on July 14, 1912, in Okemah, Oklahoma, and like everyone from my dad's generation, he had the chance to live through some of the most dramatic times in our nation's history. While Woody was born a century ago this month, he unfortunately lived an all-too-brief 55 years of that time, succumbing to a debilitating illness in 1967.

Woody was known for many things. Perhaps the most well-known was his singing and songwriting. I would suspect that his best known song was "This Land Is Your Land." Sung in hundreds if not thousands of schools across our country, that song has traveled around the world. Written by Woody after he reportedly heard Irving Berlin's "God Bless America" sung by Kate Smith, one of Woody's earliest versions used "God blessed America for me," but Woody soon changed that. School book versions of that song also generally left out several of Woody's verses that dealt with hot-topic issues like social welfare and the idea of private property in Depression-era America. In 1941, Woody also worked as a songwriter for the Federal Government's Bonneville Power Administration, writing songs about the American Northwest. Woody wrote many songs about the American experience. Thankfully, these have been archived and cataloged by the Woody Guthrie Foundation in New York and are available for study online.

If you think that politics is a tough subject these days, back in Depression times politics was absolutely at the forefront of public awareness. Authoritarian political systems were deeply involved in a world-wide struggle. Fascism, militarism, and world-wide communism all came to power and challenged the democracies in a series of events that culminated in World War II. When war came to America, Woody became a strong supporter of the war effort. He often put the inscription "This Machine Kills Fascists" on the front of his musical instruments. When an American destroyer, the U.S.S. Reuben James, was sunk by a German submarine, Woody wrote a popular ballad about that sinking that helped to inflame U.S. pro-war passions. Woody also served in the Merchant Marines during that war.

Woody was indeed an American, through and through. He often favored left-wing causes, although it is generally believed that he was never an official Communist. A common statement attributed to Woody went something like this...that he was not a communist necessarily, but that he'd been in the red all his life. Woody was, and remains, an American legend.

How all of this relates to Lakewood is a story that goes back to the very last instrument I fixed for the Rock and Roll Hall of Fame and Museum before it opened. In a way, it was the most challenging of my repair jobs. Woody's mandolin had come into the Hall for exhibition and the principals wanted it to be restored to playing condition. The instrument had numerous structural and cosmetic issues, but more importantly, it was missing some essential parts. Since Woody's mandolin was made nearly a century ago, finding those exact parts would have been quite a challenge in those early internet days. One solution would have been to purchase and strip out an instrument of similar vintage. That option would likely have involved considerable expense, time, and effort--and the Rock Hall was about to open. There was, after all, a deadline, and the exhibits had to be ready.

What to do?

After a sleepless night, I went downstairs to the basement to start the washing. Suddenly, I remembered that under the basement stairs was an old broken mandolin, smashed somewhere on the shoals of life. Why I'd kept it around, I had no idea. Still, was it possible that the essential pieces to repair Woody's mandolin could be found on that broken wreck? Indeed they were. Although the mandolin was of a different brand, it was from the same era, and the needed parts matched Woody's mandolin perfectly! Woody's restored mandolin was there at the opening of the Rock Hall and, last I heard, was later sent to the Smithsonian.

As for my old broken mandolin? Well, I still keep it around. On it, there is an inscription: "This Machine FIXED the machine that kills Fascists!"

We'll just finish up this column now with a little bit of Woody's advice: "Take it easy, but take it!" Yeah, Happy 100th Birthday Woody! As your song said: "So long, it's been good to know you," if only through your mandolin!
Read More on Pulse of the City
Volume 8, Issue 15, Posted 10:55 PM, 07.24.2012