Tease Hair & Body Parlor Hosts Artist's Reception For Lori Bellman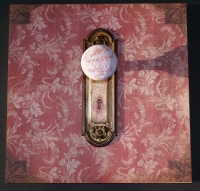 Tease Hair & Body Parlor, 15112 Detroit Ave. in Lakewood was once again transformed into an art gallery on Friday, July 13.
Native Clevelander Lori Bellman previewed her latest collection called "Doorways of Pairs" at the parlor. Live music was featured and refreshments were provided.
Bellman uses a variety of material and her work includes mixed media, charcoal, pastels, acrylic, metal and reclaimed wood. Texture, bold colors and working with reclaimed materials are key elements in her work. She has created artwork for commercial, residential and public spaces and has hosted exhibitions in northeast Ohio as well as other cities in the U.S.
Her latest project includes vintage designs created from 100-year old barn wood, vintage textiles and reclaimed/antique hardware from salvaged resident and commercial buildings around Cleveland.
For more information, please call Tease 216-228-2440.
For more on the artist, visit: http://www.etsy.com/people/loribellman
For more on the parlor, visit: http://www.teasehairparlor.com/
Read More on Arts
Volume 8, Issue 15, Posted 10:49 PM, 07.24.2012