Somebody Made It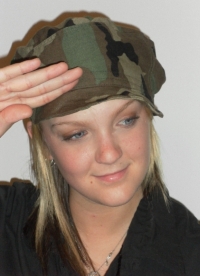 We've move to Lakewood, Oh and finally have the wondow shop we needed to attract art lovers of all kinds to see the hand crafted furniture, artwork, home furnishings, unique jewelry, adorned t-shirts and one of a kind news boy caps we make.
After close to twenty years of interior design artwork ~ faux finishing, murals, textures, creations of window treatments, and bedding for residential and commercial properties its's time to come down from the ladder before I fall off. The love of creating furniture and fashions hasn't left me yet so opening a shop was the logical step. My daughter Stephany inherited the artistic eye and her youth adds a special spirit to her creations.
Most of the items in the shop Somebody Made It are created from recycled, reclaimed and new materials. There is a certain pleasure in taking something old and making it new again.
We create custom work as well. If an item in the store would suit you in a different color or finish or material, making yet another one of a kind item would be our pleasure.
We are open for summer hours Wednesday thru Saturday 11:00 a.m. until 4:00 p.m. and Thursday from 2:00 p.m. until 7:00 p.m.
Please come check us out.

Heather DePietro
I have spent the last15 years as an interior design artist, faux finishing, murals, technique painting, window treatment creation, bedding and furnishings recreator,and many other aspects of redesigning residential and commercial properties.it's time to come down off the ladder before I fall off and I have opened a shop with my artistic daughter Stephany.
Read More on Arts
Volume 8, Issue 15, Posted 10:55 PM, 07.24.2012