LEAF Presents Yoga For Gardeners, With Puma Yoga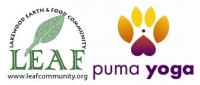 Whether you're a gardener looking to relieve some of the stress you've been putting on your muscles and joints during this difficult growing season or just somebody who wants to try some yoga, grab your yoga mat and join the Lakewood Earth & Food (LEAF) Community at the deck of the Woman's Pavilion in Lakewood Park for some yoga on Wednesday, July 25 at 7 p.m. Melissa Russo from Puma Yoga will lead the group.

Melissa is a graduate of OM yoga 200 hour Teacher Training and completed OM yoga 500 hour Teacher Training in June 2011. She is passionate about the physical, mental, and spiritual benefits of yoga and encompasses all three of these things in her yoga classes while inspiring her students to honor their bodies and have patience with the practice…the rest will follow.

As usual, this LEAF educational event is free and open to the public.
Read More on
Volume 8, Issue 15, Posted 10:49 PM, 07.24.2012