Lakewood Arts Festival Celebrates 35 Years And Features One Of Lakewood's Own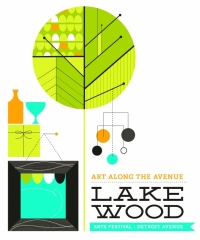 Each year as part of it's fundraising efforts, the Lakewood Arts Festival selects an artist's design to be featureed on t-shirts sold at the festival- and this year is certainly no exception. In fact, as LAF reaches its 35th Anniversary, it is particuarly fitting that 2012's commemorative design was created by one of Lakewood's very own, Brian Jasinski. Brian is perhaps better known by LAF attendees as the artist behind the popular "Grey Cardigan" prints.
A Lakewood resident himself, this will be Jasinski's third year setting up shop at the Festival, but his connections to the LAF run deeper than just vending. Long before Brian even concieved of "Grey Cardigan" he actually served on the panel of judges who select artists and then award prizes such as, "Best of Show" and "Best Creative Presentation". According to Jasinski this jury process is one aspect of LAF that sets is apary from many of the other festivals in the region. He explains that this time intensive undertaking, "Demonstrates a commitment to artistic quality and diversity by LAF and really the whole community that makes LAF a highlight of the year for many artists."
While LAF certainly owes some of its prestige based on it's size and visibility- it is one of the largest fesitvals in the area- Jasinski emphasizes that it is the community support that makes the experience at LAF so meaningful to artists like himself. In just the few short years since starting Grey Cardigan (the official debut fo the prints was Summer 2009 at another local art event called "Made In The 216"), he has been fortunate enough to develop a dedicated group of followers at LAF and in the community at large. The vibrancy of the art community in Lakewood and in Cleveland has allowed him to develop a level of "artistic trust" between himself and a number of loyal followers of his work. He explains that this bond of trust gives him, "An opportunity to challege myself artistically," in ways that would not have been otherwise possible.
A graphic designer for Epstein Design for his 9-to-5 job as Brian Jasinski and resident printmaker at Zygote Press as "Grey Cardigan" on the side, he has traditionally focused Grey Cardigan on prints. However, this year LAF attendees will see the direct results of this artistic challenge in Grey Cardigan's newly release letterpress cards, double sided wrapping paper and even a t-shirt of his own. In addition to these new product lines, fans will also be treated to a new set of prints just released this June.
Brian Andrew Jasinski is the artist/illustrator/designer behind Grey Cardigan, a line of prints and social stationery. Citing posters, wallpaper, advertising, architecture, fashion, and furniture of the mid-20th century as his muses, Brian describes his work as a translation of aesthetics and ideals of the past presented in a modern voice.

Brian received his BFA in Design at the Cleveland Institute of Art, where he earned the Agnes Gund Traveling Scholarship for his Senior BFA Thesis. Other honors and awards include Best in Show at the 2011 AIGA Cleveland Design Competition, the 2010 Community Partnership for Arts + Culture Creative Workship Fellowship, and was recently a featured speaker at the 2012 Weapons of Mass Creation Fest.

Brian is a resident printmaker at Zygote Press, and his work is carried in local retail shoppes including Banyan Tree, CLE Clothing, Inc., Native: Cleveland, Room Service and onesydneyroad.com.

Be sure to visit Brian at today's Art Festival at Booth #128.
The 35th Lakewood Arts Festival will be held on Saturday, August 4th from 10 a.m. to 6 p.m. on Detroit Rd between Marlowe and Elmwood. A full list of artists and special events throughout the day, along with a map of the Festival booths can be found on pages 12 and 13.
Read More on Arts
Volume 8, Issue 15, Posted 10:49 PM, 07.24.2012