Calling all Dirty Dogs "Dog Days of Summer" Dog Wash at Nature's Bin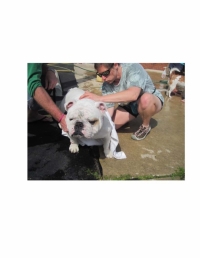 Citizens Committee for the Lakewood Animal Shelter (CCLAS) in collaboration with Nature's Bin will once again hold its "Dog Day of Summer" dog wash on Saturday, August 11th from 10:30 a.m. to 2:30 p.m. with a rain date of Saturday, August 18th. Don't be caught with a filthy tailwagger. Bring your pooch for a pampering bath and a sparkling clean look! Prices for the Dog Wash are $10 for petite to small dogs, $15 for medium to large dogs. Dog nail trimming services will also be available for an additional cost courtesy of Home Alone Pet Sitting. Please make sure your dog is non-aggressive and up to date on vaccinations. We will have complimentary doggie treats and raffle prizes! Nature's Bin is located at18120 Sloane Avenue,Lakewood,Ohio 44107. They will be selling various grilled items and refreshments. All proceeds benefit the homeless cats and dogs at the Lakewood Animal Shelter.
If you have additional questions or are interested in volunteering for the event, please contact Helene Gaidelis at 216-521-8787 or ellisperri@sbcglobal.net.
Helene Gaidelis
I am on the Board of CCLAS (Citizens Committee of a Lakewood Animal Shelter). I serve in the capacity of Secretary
Read More on Non-Profit
Volume 8, Issue 15, Posted 10:49 PM, 07.24.2012