Meet Mark Twain At The Library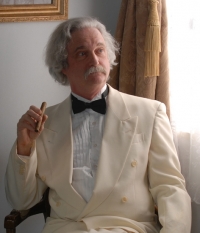 "When I was younger I could remember anything, whether it happened or not; but my faculties are decaying, now, & soon I shall be so I cannot remember any but the latter. It is sad to go to pieces like this, but we all have to do it."---Mark Twain
It is hard to imagine Mark Twain as anything but a sharp-witted master storyteller and orator. Twain's tales were enthralling. It didn't matter if he was musing about the meaning of life or telling you about breakfast. It is difficult not to wonder what it might have been like to actually see and hear him, and it is easy to curse the fact you weren't lucky enough to be alive at the same time as one of America's greatest writers.
Twain will make a rare appearance in the flesh at Lakewood Public Library Sunday, July 15 at 2 p.m. when expert storyteller Charles Kiernan brings to life his brilliant ability for narration, resurrecting the man and his memories for Sunday with the Friends in the Main Library Auditorium.
Kiernan began performing as Mark Twain for a very simple reason. "The short answer is that I look like him. The long answer is that I started out storytelling with my daughter, Emily, as father/daughter tandem storytellers. She was homeschooled, and our performing made up part of her curriculum. Then she grew up. I was suddenly on my own. I had already started to perform The Jumping Frog of Calaveras County,which became the starting point for the Mark Twain program I have developed."
When Twain put on his best linen suit and began to speak, his ability to captivate was unrivaled. Whether rambling through boyhood memories, newspaper gossip, southern anecdotes or frog stories, Kiernan becomes the man beloved by many. Mostly, though, he likes to talk about the mighty Mississippi River, Twain's favorite subject. The imposter gives the audience a bit of Twain's biography, his humor and his viewpoint. The true subject of his talks is the evolution of man.
Kiernan said Twain's true contribution to storytelling was the creation of the American voice. "All American writers before him looked to European models. Even James Fenimore Cooper, who tried and thought he had an American voice, fell short," he said. "I like performing this show which gives me a chance to let my audience know better who Mark Twain was as a man and as an American of his time."
Since retiring from gainful employment, Kiernan performs at theatres, clubs, schools, arts festivals and libraries, and is the Pennsylvania State Representative for the National Youth Storytelling Showcase and Pennsylvania State Liaison for the National Storytelling Network.
Thanks to the Friends of Lakewood Public Library for this program. To learn more about the Friends of Lakewood Public Library please visit www.lakewoodpubliclibrary.org/friends.
Read More on Library
Volume 8, Issue 14, Posted 10:02 PM, 07.10.2012