Events at Lakewood Public Library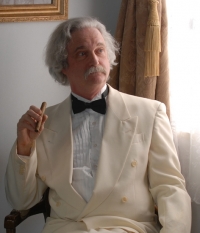 July 15
Sunday with the Friends: Mark Twain Reflects
Since retiring from gainful employment, storyteller Charles Kiernan has taken to fobbing himself off as Mark Twain with some success. When he puts on the white linen, he is wont to ramble on about boyhood memories, newspapers, politicians and frogs. Mostly, though, he likes to talk about the river.
Sunday, July 15 at 2:00 p.m. in the Main Library Auditorium
July 17
Knit and Lit
Gail Eaton hosts a social club for multitaskers - a combination book club and stitchery group. She's looking for readers who can enjoy intense discussion of modern classics while relaxing with their latest project. Come share your passion for great literature and show off your knitting, crocheting, counted cross-stitch, embroidery and quilting works-in-progress. At the close of every meeting, the group decides which book will be read for next time. Visit www.lakewoodpubliclibrary.org/bookclubs for a complete list of the books being considered and find out which title you should read for the next discussion.
Tuesday, July 17 at 7:00 p.m. in the Main Library Meeting Room
July 18
Health and Wealth: Natural Solutions for Healthy Living: The Yeast Connection: Addressing Chronic Candidiasis
Would you like to live a more natural and healthful life? Holistic wellness coach and master herbalist Rachel Anzalone confronts your greatest health challenges with her powerful plan.
Wednesday, July 18 at 7:00 p.m. in the Main Library Auditorium
July 21
Five Star Films
Assassination Tango (2002) Directed by Robert Duvall Rated R
Hitman Robert Duvall, on assignment in Buenos Aires, spies a couple performing the tango and is instantly mesmerized. When he meets dancer Luciana Pedraza in a café, she arranges tango lessons for him. They go dancing together. Now he wears two hats—assassin by day, tanguero by night.
Saturday, July 21 at 6:00 p.m. in the Main Library Auditorium
*****
Read More on Library
Volume 8, Issue 14, Posted 10:02 PM, 07.10.2012