Rotary Awards Scholarships To Four High School Seniors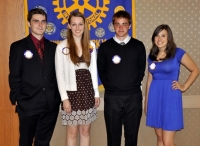 Four graduating seniors were awarded scholarships by the Rotary Club of Lakewood and Rocky River at its luncheon meeting on June 4. Mark Moskwa and Alaina Valkoff from Rocky River High School and Claire Bierge from Lakewood High School received $2,500 awards; Lakewood High School senior Michael Warren received a $1,000 award. In addition to outstanding academic achievement, the four were chosen for their extracurricular and community involvement. The Lakewood-Rocky River Rotary Foundation funded the scholarships.
Michael Warren's participation has included marching band (clarinet section leader), Model United Nations and membership in the National Honor Society. He plans to study neuroscience and chemistry at Baldwin Wallace University.
Claire Bierge was a Field Commander for Lakewood's marching band. She was president of the German Club, received "Student of the Month" awards for German and Wind Ensemble, and is a member of the National Honor Society. She will study nursing at the University of Cincinnati.
Mark Moskwa captained the varsity soccer team and was named to the First Team All-Conference while also lettering in varsity basketball. He was selected as Advanced Placement Chemistry Student of the Year. In addition, Mark volunteers with youth soccer leagues and works as a caddy at Westwood Country Club. He also tutors children living at the Domestic Violence Center of Greater Cleveland. Mark will attend Carnegie Mellon University to study chemistry and economics.
Alaina Valkoff was president and three-time state qualifier on her school's speech and debate team. She was on the Model United Nations team and president of the Law Explorers Program through the American Bar Association. In addition, she was her school's "Pirate of the Semester" and Outstanding English Student of the Year. Alaina will study public policy administration and pre-law at the University of Mississippi.
The Rotary Club of Lakewood and Rocky River is part of Rotary International, a worldwide organization of more than 1.2 million business, professional, and community leaders. Members of Rotary clubs, known as Rotarians, provide humanitarian service, encourage high ethical standards in all vocations, and help build goodwill and peace in the world.
There are 33,000 Rotary clubs in more than 200 countries and geographical areas. Clubs are nonpolitical, nonreligious, and open to all cultures, races, and creeds. As signified by the motto "Service Above Self," Rotary's main objective is service – in the community, the workplace, and throughout the world.
Lynn Donaldson
Rotary Club of Lakewood & Rocky River
Read More on Civic Groups
Volume 8, Issue 13, Posted 11:38 PM, 06.26.2012