Meet Lion and Blue's Master Jeweler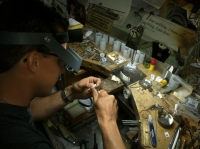 When country music star and American Idol winner Carrie Underwood needed a bracelet repaired before a performance in Cleveland, her team sought out Michael Dolatowski at Lion and Blue (15106 Detroit Avenue.) Behind all of the fair trade clothing, handmade jewelry and unique gift items for which the store has become a local favorite, the master jeweler sits in his tiny workshop like a hidden gem. Amidst the perfect example of the clichéd artistically and creatively organized space, he plies his craft at a traditional wooden workbench blended with modern tools and equipment.
At ParmaHigh School, fate intervened to set Dolatowski's future course. When the art class in which he wanted to be was full before he could register, he elected for an applied art class instead, where he was introduced to making jewelry. Though he was supposed to rotate through various fields, such as fiber and ceramics, Dolatowski fell in love with blending metals and managed to stick with jewelry through the entire course. Eventually, he surpassed the skills of other students, and his teacher invited him to pursue independent study in the teacher's office. By the end of high school, Dolatowski won a National Scholastic Award and several Key Awards for his work, and he also succeeded in nearly burning the school down.
After several stints in construction jobs and a brief five-month stay at Cleveland Institute of Art, Dolatowski found his path. While working at Andy's Hardware, he met an old jeweler who gave Dolatowski both advice to gain an apprenticeship and names of several master jewelers. Finding himself out of construction work again, Dolatowski contacted Stephanoff Jewelers, with whom he spent the next six years learning the trade and honing his skills. In February 1996, Dolatowski and his wife Tina opened Lion and Blue.
Besides the vast array of pieces that Dolatowski crafts for his display cases, he also offers repairs and welcomes requests for one-of-a-kind custom pieces. He enjoys the opportunity to work on heirlooms, such as a ring from someone's aunt. "It might be the only thing somebody has left from a loved one," he says. A custom piece he remembers fondly are setting pieces of a broken glass bottle that a couple found in their garden into theirs wedding rings, even surprising them with some diamonds. He also mentions a unique keychain (shaped like a life-saver candy encompassing a kidney) that a kidney transplant recipient gifted to his daughter, the donor.
Most recently, Dolatowski cast silver napkin rings in the shape of stirrups that were used to set a wedding reception for a couple who own horses in New York. Among his creations in progress are a piece featuring a tooth from an elk and pieces using shells from the claws of a large cat. He's also been perfecting his skills with mokumé gane, a traditional Japanese metalworking technique that is enjoying a revival and literally translates to "wood eye grain."
Read More on Business News
Volume 8, Issue 13, Posted 11:38 PM, 06.26.2012