Lakewood HIgh Grad Brings Olympics Games To World Wide Audience
A former Atkins Avenue resident and 1969 Lakewood High School graduate has brought thousands of worldwide listeners the firsthand accounts of sixteen Olympics Games.
Jack Briggs, correspondent for Associated Press radio, has covered every Olympics Games from 1980 to 2008.
"My first Olympics were Lake Placid in 1980 and my last was in China in 2008. At every Olympics I served as both a reporter and anchor. At its height AP radio had over 1,000 affiliates and we were heard on Armed Forces radio." recalled Briggs.
"At one time or another I got to cover just about every major event," said Briggs, " And when not doing that, I was back in the Main Press Center, anchoring our Going for the Gold radio network shows."
Briggs, a Ohio University graduate, formerly was the voice of Ohio University Bobcat basketball, St. Louis U. Billikens basketball and the radio voice of the old American Basketball Association Utah Stars before taking a job with Associated Press radio in Washington D. C.
Briggs is married to another former Lakewood resident, Kathy Wiedt, whose family, many recall, owned Lakewood's Kenilworth Tavern on Detroit for many years.
"Your first Olympics is like your first girlfriend, it stands out. Lake Placid (1980) was great. It was just about the last Olympics in a small town. Since then only major cities serve as hosts, but in Lake Placid the event was smaller than it is now and much more enjoyable." noted Briggs.
Briggs coved the famous 1980 U.S. hockey team upset defeat of the Russians and reported on the finals two nights later when the U.S. upstarts won the gold. "Believe me there was one hell of a party when the U.S. upset the Russians." said Briggs.
"The Winter Games are always my favorite because they are more intimate, simply because the Winter Games are not as big as the Summer Games…Lillehammer, Norway (1994) was great."
As far as Summer Games, Briggs said he enjoyed Athens, Greece (2004). "I never thought I'd be standing at the Parthenon, but there I was," an awestruck Briggs noted.
The most disappointing Olympic games were those games held in the U.S. said Briggs.
"Atlanta (1996) was terrible. It was over commercialized to the max. It really didn't have the international flavor or color of the other ones….and Salt Lake City (2002) was just boring. Los Angeles (1984) was fine, except for those of us in broadcasting as the radio rights for the Olympics were sold for the first time and severe restrictions were placed on broadcasters," said Briggs.
When asked who was the most impressive and memorable Olympic athlete, Briggs states without hesitation, "Eric Heiden at the Lake Placid games. Five events in speed skating and five gold medals in five world record times and all on an outdoor track in the middle of winter. Amazing," said Briggs!
Briggs while on assignment, lived in the Olympic media accommodations.
Briggs recalled, "for many years the host organizers would build new condominiums for sale after the games. During the games they would rent these to the media. In some cases they were very nice. In Seoul, Korea I could stand at the window and look out a half the venues for the events. In Australia they had a kangaroo pen at the entrance to the media residential area. "
Each Olympics location brought its own local cuisine. "Norway had reindeer, it was good. The McDonald's in Norway had McSalmon. In Japan there was McTeriyaki. The hotel I was in had a restaurant that featured soup with fish heads floating in the bowl."
"Every Olympics is a great experience. A party on a world wide scale. I always tell people if you have the chance to attend one, do, you can't beat the atmosphere. At an Olympics you are never at a loss for a good time. If you are working it's a long day, seven days a week. But like any good Lakewoodite, I always found time to have a good time."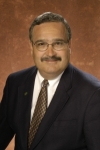 Thomas George
50+ years proud Lakewood resident BA Journalism, THE Ohio State University, Columbus, Ohio, general assignment reporter Ohio State Lantern daily newspaper active in civic and community affairs in Lakewood for many years
Read More on Historical
Volume 8, Issue 13, Posted 11:38 PM, 06.26.2012