Erie Shore Greyhound Adoption Benefit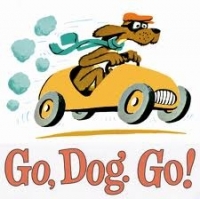 Crafty Goodness at 15621 Madison is teaming up with the Erie Shore Greyhound Rescue for their July Crafting for a Cause. Please join us on Saturday, July 14th for a day filled with crafting and fun, proceeds to benefit this great group.
1-3 p.m. Story & a Craft (ages 3 and up)
We will begin by reading Go Dog Go by P.D. Eastman(a Dr. Seuss Protege) and then tying in what we have read by crafting a party hat.
$6 per child

2-4 p.m. Fleece Dog Toy (ages 6 and up)
Dogs just love to play tug of war...make them a fun tug of war toy out of fleece! Very easy to create, great parent/child activity.
$6 per person

4-6 p.m. Sewn Dog Toys (ages 12 to Adult)
We will be crafting toys for our favorite dog! Create a fun squeaky toy using simple sewing. Not sure how to sew? Crafty Goodness will help you!
$10 per person
It's a dog eat dog world, gotta help the pups! For more information, please call the store at 216.226.4880 or email craftygoodnesscleveland@yahoo.com.
Christin Sorensen
Chris Sorensen, MAMA Co-Chair & Owner of Crafty Goodness on Madison
Read More on Entertainment
Volume 8, Issue 13, Posted 11:38 PM, 06.26.2012