Andreani Leaving Large Legacy At Alumni Foundation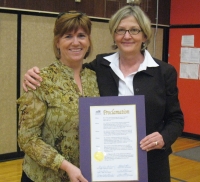 When Teresa Coyne Andreani accepted the job as executive director of the Lakewood Alumni Foundation 10 years ago upon the resignation of legendary director Tony DiBiasio, she continually heard what big shoes she had to fill. Thanks to the incredible job Andreani has done during her decade-long tenure, she has passed on the same "big shoes" legacy to her successor.
Andreani (LHS '82), who is stepping down on June 30, took an organization known as a great booster of the Lakewood City Schools through its guidance on reunion planning, its alumni, staff and sports halls of fame and its awarding of student scholarships and turned it into something so much more.
"Teresa has been instrumental in both the growth of LAF's resources and the breadth of impact on Lakewood students," said Lakewood Alumni Foundation Board of Trustees Chairperson Chuck Greanoff. "In doing so, she has been an outstanding steward of the tradition of service established by the late Mr. Tony Dibiasio. She is and has been an enormous asset to her alma mater."
In the years Andreani has run the Foundation, the organization's focus has broadened to include:
more targeted fund-raising that helps support specific programs such as the College Now services at the high school underwritten by the Foundation;
educational endowment funds such as the Margaret Warner Educational Grant Fund that awards more than $10,000 in grants each year for teachers to offer greater enrichment opportunities for their students such as an LHS student trip to the White House to participate in Black History Month seminars;
establishment of the Anthony J. DiBiasio Jr. Memorial Archives and the hiring of a professional archivist to protect the district's and its students' legacy, including raising funds to preserve student murals that hung in the halls of LHS;
development of the Ranger Shop to help promote Ranger spirit and brand awareness throughout the community; and
creation of the Ranger Walk of Distinction paver path to acknowledge donors to the Ranger Athletic Endowment Fund to help athletes participate in higher level training opportunities such as camps and clinics.
This is just a sampling of the many accomplishments of the Foundation under Andreani's guidance, along with the time and talent of the Alumni Foundation's dedicated volunteer Board of Trustees, secretary, Wanda Woods, and development director Ellen Galmitz.
In accepting a resolution recognizing her service at a recent Board of Education meeting, Andreani said that her job at the Alumni Foundation "has been a passionate thing for me." And "passionate" is the word, along with "dedicated" that most often comes up when talking about Andreani and her work for the Alumni Foundation and her support of the Lakewood City Schools.
Perhaps Board Vice President Ed Favre summed it up best when he told Andreani following the Board's approval of her proclamation of recognition: "We are better off for having had you here."
Read More on Schools
Volume 8, Issue 13, Posted 11:38 PM, 06.26.2012