Superheroes Fight Cancer At Relay For Life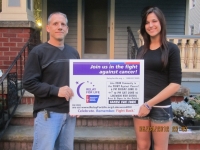 After a nine-year hiatus, Relay For Life returns to Lakewood on June 15 & 16 at the Lakewood High School stadium through the efforts of Wyandotte resident, Louis Wenner. Lou lost his parents to cancer, both diagnosed by age 60. His wife Della is dealing with cancer in her family now. The theme of Lakewood's Relay is Superheroes, and when Lou achieves his goal of walking 60 miles (that's more than two marathons) he's going to be everyone's Superhero! Event Chair Kelsey Solarz, a sophomore nursing student at Kent State, has participated in Relays for 8 years, after losing her best friend to cancer in 6th grade.
What is Relay For Life? It's a fundraiser for the American Cancer Society in which teams of friends & neighbors join together to camp out overnight and continuously walk the track. Each participant conducts their own fundraising prior to the event, with a collective goal of $20,000 to support programs such as Reach to Recovery, Road to Recovery, and cancer research. Each team hosts a tent, placed around the track, at which they sponsor a fundraising activity. H20 is doing face painting; at Wenner's 100 tent, washer toss offers a new twist to cornhole, with six grand prizes--washer toss sets valued at $125. Live Well Lakewood will have an array of great raffle prizes. You'll have to see for yourself what the other teams are doing!
Relay For Life officially begins with the singing of the natiional anthem by Vive L'Four at 6:15 p.m. Then Shannon FitzGerald will introduce honored guests, cancer survivors who, with their caregivers, will walk the track to the survivors' tent, where they'll be treated to dinner by Breadsmith, Discount Drug Mart, Giant Eagle, Karen King Catering, Nature's Bin, Root Cafe and Zappitelli's. The luminaria ceremony at 9:30 p.m., accompanied by bagpiper Kevin Kelley is solemn yet inspiring. Each luminaria speilling out HOPE represents a person who has experienced cancer. Luminaria in honor or in memory of someone are available for $10 that evening, or in advance online at http://main.acsevents.org/site/TR?fr_id=45849&pg=fr_ecommerce and can be taken home after the event.
Relay For Life provides a festive community event with a deadly serious purpose. Come applaud the survivors, browse the team tents and meet their Superheroes; laugh at the outrageous Miss Relay pageant at 8:00 p.m.; be awed by the luminaria; visit the concession stand for Hungry Howie's pizza, and enjoy the entertainment throughout the event:
June 15
5:30 - 6:30 p.m. Rick Smith, Jr. Magician (at front gate)
6:15 - 6:30 p.m. Survivor Ceremony
6:30 - 7:15 p.m. Second Half (main stage)
7:00 - 8:00 p.m. LHS Cheerleaders
7:30 - 8:15 p.m. Diana Chittester (main stage)
8:00 - 9:00 p.m. Trash Talkers (at front gate)
8:30 - 9:15 p.m. Eli Carr (main stage)
9:30 -10:00 p.m. Luminaria ceremony
10:00-11:00 p.m. DJ
June 16
9:00 - 11:00 a.m. Vance Music Studios
Read More on Features
Volume 8, Issue 12, Posted 9:10 PM, 06.12.2012