Major Investment In The Lakewood YMCA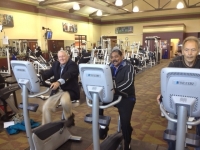 The YMCA of Greater Cleveland has invested $340,000 in the Lakewood YMCA Branch.
The $340,000 investment was to purchase new cardio equipment for the fitness area and was unveiled during the June 2, 2012 Grand Re-opening.
The new Precor and Cybex equipment is state-of-the-art with direct cable access; each machine has its own tv screen.
Members will also be able to plug in their own digital devices and smart phones and access the Internet through a WI-FI connection. Instead of reading magazines or newspapers the members will now be able to read the publications on-line while they exercise.
To celebrate this re-investment in the Lakewood community the YMCA is waiving all joiner fees for former members, a $100 savings until June 30, 2012.
Mike Caprino
Corporate Membership Director for YMCA of Greater Cleveland, Membership Engagement Director Lakewood YMCA. Former president Cleveland Rovers Rugby Football Club.
Read More on Non-Profit
Volume 8, Issue 12, Posted 9:10 PM, 06.12.2012