Volunteers For Life Program Provides Funding To Joel's Place For Children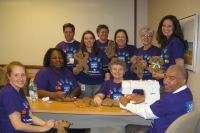 The New York Life Foundation recently awarded a $1,700 Volunteers for Life grant to Joel's Place for Children in recognition of the volunteer service of a team of employees from the company's office in Lakewood. A team of twenty participated in New York Life's Month of Service event, where they made teddy bears for the Bay Village nonprofit that provides grief support services for area school-aged children who have experienced the death of someone special in their lives. For more information about please visit joelsplaceforchildren.org.
"Our team is proud to work with Joel's Place for Children," said Anne Varano, team leader, New York Life. "We are committed to making a difference in the community by supporting grieving children and families through the Volunteers for Life program."
New York Life's Volunteers for Life program recognizes the group efforts of the company's employees, retirees and agents. Qualified teams may apply for a grant for nonprofit organizations where they volunteer their time in both short- and long-term commitments. The program requires a minimum involvement of five New York Life individuals who collectively contribute a minimum of 40 hours of service per calendar year.
About The New York Life Foundation
Inspired by New York Life's tradition of service and humanity, The New York Life Foundation has, since its founding in 1979, provided more than $155 million in charitable contributions to national and local nonprofit organizations. Through its focus on "Nurturing the Children," the foundation supports programs that benefit young people, particularly in the areas of educational enhancement and childhood bereavement. The foundation also encourages and facilitates the community involvement of employees, agents, and retirees of New York Life through its Volunteers for Life program. To learn more, please visit the Foundation's Web site at www.newyorklifefoundation.org.
Anne Varano
I am a member of Volunteers for Life. Occasionally I will send in a news release about volunteer events in our Lakewood Office.
Read More on Business News
Volume 8, Issue 11, Posted 10:53 PM, 05.30.2012