Showdown At The Lakewood Public Library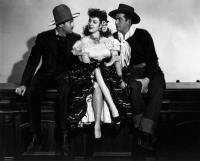 A harsh quiet falls over this sunbaked stretch of Detroit Avenue and the saloons by the Library are conspicuously empty. Rumors of a showdown hang in the air making lazy circles in the sky. The reputation of a classic American film is at stake. Terry "Prof" Meehan will hold his own against Mary "The Doria" Russell and her gang of bestselling novels.

No stranger to the Lakewood Public Library, Terry Meehan has been hosting film nights for years. His current series, Western Movies, The Early Years: 1903 -1948, takes a hard look at great films that define the genre. Each film is introduced with rare clips and documentaries and finishes with a lively discussion. His upcoming presentation of "My Darling Clementine" centers on Wyatt Earp, Doc Holliday and the legendary O.K. Corral shootout. Directed by John Ford in 1946, "My Darling Clementine" was selected by the Library of Congress to be added on the National Film Registry for preservation.

Mary Doria Russell's latest novel, Doc, tells the story of John "Doc" Holliday that many are unfamiliar with. While most focus on the gambling gunman of legend, Russell relays the story of the man behind that legend. After losing his mother, Alice, at 15 to tuberculosis, Doc is faced with the same death sentence shortly after earning his dental surgery degree at the age of 21. Knowing what fate had to offer him, he traveled west in hopes that the dry air and weather would help improve his health. Russell's novel shows us the Doc Holliday that was fighting for his life while trying to survive on the edge of the frontier.

While Ford's film is considered a classic it is also the least faithful in regards to actual historical events. But how much of a factor should historical accuracy play in determining whether a film is considered great?

To help answer this question Russell will lend her knowledge on this exciting and tumultuous time period, while Meehan will let director, John Ford; defend his film through an introductory video shown before the movie. Be sure to mark your calendars for this film presentation and discussion on Saturday, June 2 at 6:00 pm so you can hear both sides of the argument and judge for yourself. This movie is free and open to the public and will be held in the Lakewood Public Library Main Auditorium. For more information go to www.lakewoodpubliclibrary.org/film.
Morgan Maseth
Writing for the Lakewood Public Library
Read More on Library
Volume 8, Issue 11, Posted 10:52 PM, 05.30.2012