Forty-Three LCA Students Inducted Into The National Junior Honor Society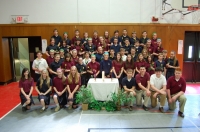 Wednesday, March 28 was a very big day for 43 Lakewood Catholic Academy junior high students. The seventh and eighth grade students were inducted into the National Junior Honor Society. This represents the largest number of inductees into the Society since the founding of Lakewood Catholic Academy in the fall of 2005! Students who gain membership in the Society have demonstrated excellence in the areas of Scholarship, Leadership, Service, Character and Citizenship.
The students inducted this year include the following:
Grade 7: Alyssa Amato, Maya Ariza, William Baker, Liam Bangert, John Bradfield, Anna Cmolik, Bridget Croniger, Mary Cait Dolan, Jacqueline Grant, Olivia Heidorf, Ryan Johnston, Emma Kantorak, Victor Kasinec, Alyssa Kissel, Laura Kolenz, Grace Kormos, Anna Kotansky, Nancy Kotnik, Veronica Kress, Caroline Lauch, Hannah Marek, Brendan Mitchell, Emily Morabeto, Stephen O'Sullivan, Luke Occhionero, Edward Patton, Sonia Rogozinski, Caitlin Ryan, Caroline Saracina, Joseph Sierputowski, Laurel Slawinski and Frances Smith.
Grade Eight: Kevin Arbeznik, Emily Bundy, Marcus Hogan, David Isabella, Kira Rogozinski, Stephen Schrimpf, Nathaniel Smith, Robert Sessions, Molly Stofko and Kyle Warren.
Read More on Schools
Volume 8, Issue 11, Posted 10:58 PM, 05.30.2012