Come To The 3rd Annual Lakewood Bike Rodeo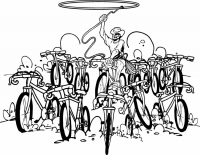 With school out soon, there will be more kids out riding their bikes, and Lakewood's Neighborhood Police Officers want to do something proactive to help keep them safe while they enjoy their summer. The Lakewood Bike Rodeo, a safety program for kids, will be held Saturday, June 9, 2012, from 10:00 a.m. to 1:00 p.m. at Madison Park.
Most kids ride their bikes on the sidewalk. However, as they get older and bigger and ride the sidewalks and crosswalks faster, there will come a time when it is safer for all if they were 'driving' with the road traffic. It is key that these young bike 'drivers' know traffic rules and acquire skills to prevent accidents and harm just as an automobile driver must. Sharing the road without knowing and obeying the rules can lead to trouble: the three top causes of bike-car crashes for kids under age 15 are riding out of a driveway without stopping, running stop signs, and turning left without yielding. And without a helmet on, your child is at risk of serious brain trauma or death from as little as a three foot drop.
The Rodeo program will take kids through a series of activity stations that cover many bike related-topics that will be beneficial for sidewalk or road riding. The Bike Shop activity station will teach your kids about the mechanics of their bike and check that everything is in good working condition. Even sidewalk riders will benefit from activities such as the Rock Dodge, Who's There, Demon Driveway, Crazy Crossroads, and Slow Race that will go over traffic rules, reaction to hazards, and maintaining control.

The Lakewood Bike Rodeo targets Lakewood residents ages 11 and under, but there is something for everyone at this FREE event. Additional reasons to come to the Rodeo:
Get a bike license free of charge. Many times stolen bikes end up getting turned into the police and this is the only way to know who the bike belongs to so it can be returned. What's more, if a policeman suspects a bike rider to be on a stolen bike some will flip the bike over to find the serial number and check it against the license records.
Get a Child Identification Card. If your child were to be missing this is the must-have document that you can give to the police immediately to help search efforts.
Get a kid's helmet for only $5. Various kids' sizes will be available while supplies last.
Activities for ages six and under provided by City of Lakewood Family Room.
Bike and Helmet Raffle. We will be raffling off four new bikes. Winner must be present.
Interact with and get to know your local policemen in a casual and fun environment.
After the Rodeo, catch a swim at the Becks Pool at Madison Park.
All rodeo participants should be accompanied by an adult age 18 or older and must wear a helmet. Every child that finishes the rodeo will be entered into a bike giveaway raffle.

This Bike Rodeo is sponsored by the Lakewood Police Department, Steel Valley Federal Credit Union, Madison Avenue Merchants Association, Live Well Lakewood, Friends of Madison Park, Lakewood Public Library, Silhouette School of Dance, and the Kiwanis Club of Lakewood.
Read More on City
Volume 8, Issue 11, Posted 10:52 PM, 05.30.2012