Homebound Delivery Service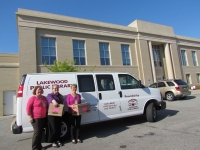 Are you a Lakewood citizen who loves to read or watch movies but you're unable to come to the library? Did you know that the Lakewood Public Library offers Homebound Delivery Service? If you can't get to the library because of age or disability, we will deliver and pick up your library materials. You can request books (including large print), magazines, DVDs, VHS tapes, music CDs and audio books.
Explore new worlds with books on travel, cooking, poetry, crafts, philosophy or whatever interests you. Maybe you'd like to cuddle up with a bestselling novel or listen to some soothing music. Whether you'd like to dive into something deep or have a few laughs with light-hearted fare, we're sure to have items in our collection that will help enrich your life.
Our homebound delivery service is offered every other Tuesday afternoon. Call the Customer Service Desk at 216-226-8275, ext. 110 to sign up for the service or for more information. We'll do our best to meet your needs!
Lakewood Public Library – Delivering the world to your doorstep.
Read More on Library
Volume 8, Issue 10, Posted 9:26 PM, 05.15.2012