Who's That Librarian?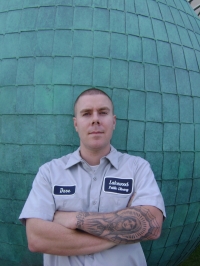 Name/Position/Department: David Lamka / Assistant Supervisor / Maintenance
Birthplace: Marymount Hospital, Garfield Heights, OH
Tell us something interesting about you: I recently started a local Cleveland clothing company called www.bornandbredclothing.com. All of my apparel is printed locally right here in Lakewood at University Tee's.
How long have you worked at LPL? Four years
What's your favorite spot in the Library? Either Non-Fiction or the Audio / Visual Department. Although occasionally working on the roof has its benefits. The view of Lake Erie and Downtown are pretty nice.
What are you reading right now? No Angel by Jay Dobyns
If you were stranded on a deserted island, what three books would you want in your backpack? Man vs. Wild: Survival Techniques from the Most Dangerous Places on Earth, The Jungle by Upton Sinclair, and L. Ron Hubbard's Mission Earth, because it's one of the longest novels ever recorded.
Do you have a favorite childhood memory of the library? One of many standouts is going to the Cleveland Public Library on Memphis and Ridge with my dad. I'd always have him check out the same how-to-draw book, then I'd make him draw Mighty Mouse for me.
Suddenly you find yourself living the life of a book character. Who are you and why? Frank Abagnale Jr. from Catch Me If You Can, because his misleading adventures were all intended for fun.
What might surprise us about your work at LPL? There are a lot of employees here who really know our regular patrons. These simple conversations make working here that much more enjoyable.
Read More on Library
Volume 8, Issue 9, Posted 9:55 PM, 05.01.2012