May is ALS (Lou Gehrig's Disease) Awareness Month Support research with a 'Lil MaryAnns Cupcake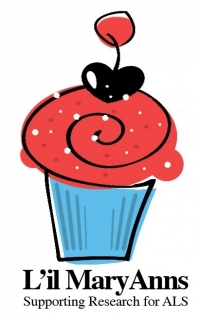 Amyotrophic Lateral Sclerosis (ALS) is a motor neuron disease, known also as Lou Gehrig 's disease. This devastating disease affects about 5,600 people in the US each year – that is 15 new cases a day! The month of May is designated as ALS Awareness Month. Research for this horrific disease continues to need to be funded until a cure is found. Once your world has been affected by this disease, it is never the same.
As a tribute to an incredible woman's life, 'Lil MaryAnns Cupcake Campaign for ALS Research was developed. MaryAnn Pappalardo lost her battle with ALS on January 5, 2010. As a vibrant member of her community, MaryAnn served as a member as well as an executive board member of numerous social, cultural, philanthropic, business, and church related organizations in her community. Through her leadership and involvement in these organizations countless others were helped, fed, loved, and befriended.
MaryAnn had always supported the arts and as her family grew, she continued to support and encourage other children in her community. Her family did not realize the impact she had had on these young performers until after her death.

Among the many floral arrangements and gifts of food there was a tray of cupcakes with an envelope attached. In the envelope was a single dollar bill and a note. The note, from the parents of a boy that MaryAnn had seen perform countless times, explained how after attending his performances MaryAnn would send him money along with a note expressing how proud she was of his performance and instructing him to go to the local bakery and purchase a cupcake for a job well done.

Soon after MaryAnn was diagnosed, this young man sent her a card with money in it. His instructions to her were to go to the bakery and buy a cupcake because "cupcakes make everything better." As MaryAnn's condition worsened, limiting her mobility and speech, she would see this child at church. She would listen attentively to the child as he would explain his most recent performance and would share his gift of music with her. The next day, MaryAnn would send him a note with money in it and the instructions to purchase a cupcake for a job well done.

As a tribute to MaryAnn Pappalardo and the joy she spread, her memory is honored as money for research and care of those affected by ALS through 'Lil MaryAnns Cupcakes Campaign. Bakeries in Jamestown, New York, Birmingham, AL and Lakewood, OH are participating in The'Lil MaryAnns Cupcake Campaign. Proceeds from the purchase of a 'Lil MaryAnn Cupcake at participating bakeries thru the month of May will go towards research for ALS research through the ALS Association.
Participating bakeries for the 2012 'Lil MaryAnns Cupcake Campaign are:

Create-A-Cake -17114 Detroit Avenue, Lakewood, Ohio 44107
Chubby Pumpkin Bakery - Bay Village, OH 440-892-4766
Jones 212 Bakery and Cafe, Jamestown, NY
Farm Fresh Foods, Jamestown, NY
Crestline Bagel Company, Mountain Brook, AL
Everything Iz, Inc., Vestavia, AL
Treat yourself to a sweet treat as well as supporting a great cause!
Find 'Lil MaryAnns Cupcakes on Facebook for more information. Find more information on ALS at www.alsa.org.
VernaAnn Kotansky
VernaAnn Kotansky resides in Lakewood with her husband , Mike and 2 daughters. She is employed by the Lakewood City School District as a Speech-Language Pathologist. As an active member in the community she is proud to call Lakewood home.
Read More on Non-Profit
Volume 8, Issue 9, Posted 9:55 PM, 05.01.2012