GreenSmartGifts Celebrates 4 Years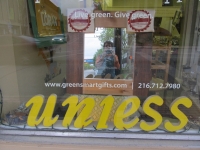 Green Smart Gifts is a Lakewood family-owned and operated business offering products and options that are good for the giver, good for the receiver and good for the Earth.
In May of 2010 when two school teachers and Lakewood residents, Shawn and Donna Witmer, decided to purchase GreenSmartGifts from its "birth mom" Mary Evans. "We decided we would take the hand of this toddler, who had been nurtured so lovingly and passionately for its first two years of life, to its next level." As adoptive parents the journey has been an exciting learning experience. For the first year of new ownership, Kathy Dorsey Matuszewski, Donna's sister, managed the store with all the creativity and commitment the Witmers were looking for. When Kathy moved away Donna decided to take an early retirement to devote her full and undivided attention to "all things green". We see as our role to connect our customer's sense of identity and self to the core values of GreenSmartGifts. Those core values of sustainability, renewability, locally produced and organic can be found in the products they have to offer.
Locally-made: Products made by local artists. Emissions from shipping are greatly reduced by using local suppliers and artisans.
Fairly–traded: Products made by workers who received fair pay and were treated with dignity during the production and sale process.
Organic: Made of sustainable and/or natural materials, and/or grown in a pesticide-free environment.
Non-toxic: not harmful to humans or animals during production, use or responsible disposal.
Recycled: Made of recycled materials, reused parts or scraps.
Tools of change: Product that help us to adopt more sustainable behaviors in our everyday lives, e.g. totes and water bottles.
"When someone visits our store the hope is that they feel a place of welcome where they can share a bit of their story. This past Christmas Eve I welcomed a customer who had assisted his wife in giving birth to their daughter just a few days earlier in their home. That was a powerful tale to hear on Christmas Eve and I felt privileged to have been given witness to it through this dad's story."
A recent addition to GreenSmartGifts includes items from Reclaimed Cleveland — a company specializing in repurposing wood from historic structures. Currently GSG is selling bottle openers, candle columns, chopping blocks, and paper towel dispensers made from salvaged materials from the demolition sites of the St. Catherine's Catholic Church in Collinwood as well as the building that housed the Westwood Dry Cleaners, and St. Paul Lutheran Church here in Lakewood.
Shawn and Donna hope you will consider stopping by the store on Saturday, May 12 from 11:00 a.m. - 7:00 p.m. to celebrate with them the past two years of ownership of GreenSmartGifts. There promises to be a 'stache of fun things happening including crafts for kids and a 3:00 showing of the original 25-minute 2D-animated Lorax TV special.
Read More on
Volume 8, Issue 9, Posted 9:55 PM, 05.01.2012