And The Winner Is . . .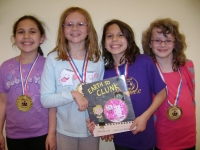 You may be aware of the Caldecott Medal, which is awarded annually to the most distinguished picture book for children published each year, but have you heard of "The Most Fantastic Book Award"? That was the name chosen by a committee of distinguished 2nd, 3rd, and 4th graders who were members of the Picture Book Award Committee at the Lakewood Public Library. Each week new picture books were experienced and ballots cast. In addition to choosing the top book and the name of the award, participants designed the medal.
Chosen as their favorite was Earth to Clunk by Pam Smallcomb, the story of a boy who exchanges letters and packages with Clunk of the planet Quazar. Illustrating a popular fairytale was also part of the weekly fun. The final meeting of the Picture Book Award Committee included a ceremony where the winning title was announced and medals were presented.
Read More on Library
Volume 8, Issue 9, Posted 9:55 PM, 05.01.2012