Bike For Beck! Arts + Bikeability + Community = Fun Family Event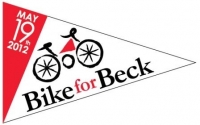 The first annual Bike for Beck, a bicycle tour and fundraising event is Saturday, May 19, 2012. This fundraiser is sponsored by Connect to Beck (C2B), a volunteer group of young professionals who support the Beck Center through social, cultural and insider events.
The bike tour begins at Beck Center and runs through the Cleveland Metroparks, with 12-mile, 25-mile and 60-mile routes. There is also a family-friendly ½-mile bike parade with the theme "Music in Motion." Parade participants are encouraged to decorate their bicycles in creative ways to artistically convey this theme.
Bike tour and parade participants can register online at beckcenter.org. Cyclists who register for the bike tour before May 1 save $10 off the registration fee.
Tour participants and community members are also invited to join their family, friends and neighbors for the Bike for Beck Fest. Guests will enjoy an afternoon of live entertainment on the Beck Café Red Stage, bike safety and maintenance demonstrations, a vintage bicycle exhibit, art displays, food trucks, and much more. To view a complete list of the day's activities visit beckcenter.org.
Volunteers are needed to assist with this inaugural event. If you would like to help on Friday, May 18 or Saturday, May 19, please contact Brittany Lesch at 216.521.2540, ext. 34 or blesch@beckcenter.org. For more information about Connect to Beck (C2B), email C2B@beckcenter.org.
Located at 17801 Detroit Avenue in Lakewood, the Beck Center for the Arts is a not-for-profit 501(c)3 organization that offers professional theater productions, arts education programming in dance, music, theater, visual arts, early childhood, and creative arts therapies for special needs students, and gallery exhibits featuring regional artists.
Read More on Arts
Volume 8, Issue 8, Posted 9:41 PM, 04.17.2012