Ambulance Chase Top 11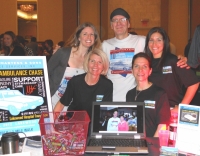 11 Fun Facts About Lakewood Hospital's Ambulance Chase
Nominated as a 2012 "Best of the West" charitable race finalist.
One of the largest 5Ks inNortheast Ohio.
Total participants since inception: 7,151
Participants ranged in age from 5 to 90.
Last year, participants fromOhioand 9 other states (CA, CO, FL, IN, MI, NC, PA, VA, WV).
2011 record participation of nearly 1,300 with 29 teams.
Fastest 5K time 15:28 – for those that enjoy a challenge!
Record female time of 18:15 in 2008; record male time of 15:28 in 2003.
Donald Marten's Ambulance Services presenting sponsor for entire 11 years.
Donald Marten's ambulance that leads the race is a 1964 Vista Cruiser.
Known for our great after race food!
For more information, visit lakewoodhospitalfoundation.org/ambulancechase or call 216-529-7009.
Polly Stringer
Lakewood Hospital Foundation Development Assistant
Read More on Sports
Volume 8, Issue 8, Posted 9:41 PM, 04.17.2012