Vernon Stouffer-Lakewood Success Story
One of the most popular consumer brands in America has strong Lakewood roots. Stouffer Foods was founded by Lakewood's Vernon Stouffer who has never enjoyed a Stouffer's French Bread Pizza.
Stouffer, born August 26, 1901, attended the Wharton School in Philadelphia where he graduated in 1923. Upon returning to Cleveland he worked at the family's downtown lunch counter, which by 1929 had gone public and was the first in a chain of Stouffer's restaurants.
In addition to restaurants, under Vernon Stouffer's leadership, the Stouffer Corporation gradually expanded into motor inns and frozen foods. Eventually, the frozen foods segment became the corporation's major focus and in 1967 it was sold to Litton Industries, which merged with Nestle in 1973.
Stouffer was also the owner of the Cleveland Indians during a troubled time in the franchise's history. He purchased the Tribe in 1966 and did his best to maintain the team during some lean years in the win column. At one point Stouffer sold part interest of the team to New Orleans investors with the intent of playing 30 Indians games in the Emerald City, but this idea was voided by the American League.
Another West Shore resident, George Steinbrenner made an unsuccessful attempt to purchase the team which Stouffer eventually sold in 1972 to another Lakewood native, Nick Mileti, whose son Jim today owns the popular Winchester Tavern on Madison Avenue.
In 1947, Stouffer and his wife Gertrude purchased a home at 17884 Beach Rd., near the top of the beach hill next to the Clifton Club in Lakewood. As an important businessman, he was often visited by celebrities and other important people. The Clifton Park neighborhood was abuzz when, in 1961, Walt Disney visited the Stouffer's.
Stouffer eventually moved to the Winton Place where he initiated the construction of a new Stouffer's restaurant, Pier W in 1965. Pier W, which is attached to the Winton Place and now owned and managed by Select Restaurants, Inc., was and remains one of Greater Cleveland's premier dining locations.
Stouffer foods were selected by NASA to feed Apollo 11, 12 and 14. Under Stouffer's leadership the company purchased a 42 acre site in Solon and established its North American processing plant. Nestle acquired Stouffer's in 1973. Currently the company has sales of $1.21 billion and over 4,000 employees.
Stouffer lived at Lakewood's Winton Place until July 26, 1974, when he died at the age of 72.
Vernon Stouffer, a true Lakewood success story.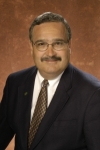 Thomas George
50+ years proud Lakewood resident BA Journalism, The Ohio State University, Columbus, Ohio, general assignment reporter Ohio State Lantern daily newspaper active in civic and community affairs in Lakewood all many years
Read More on Historical
Volume 8, Issue 6, Posted 9:13 PM, 03.20.2012