Lakewood In The Civil War: Soldiers From Rockport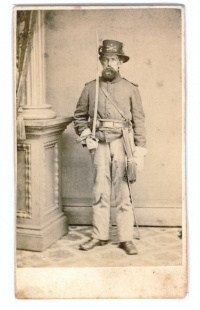 The Lakewood Historical Society continues to commemorate the 150th anniversary of the Civil War with a series of articles focused on Rockport Township (now Lakewood) during that time.
The state of Ohio sent over 320,000 soldiers to fight for the Union during the Civil War. Over fifty of these men came from Rockport Township which covered what is now Lakewood, Rocky River and parts of Fairview Park and Cleveland), a community that had under 2,000 total residents.
Who were these men? Census data, information at the Soldiers' and Sailors' Monument, enlistment records and other documents helped to piece together a picture of the Rockport men who served in the Civil War.
Most were twenty years old or younger, although the oldest Rockporter to enlist was 45. The older men left a variety of occupations when the enlisted, included a shoemaker, farmers, servants and laborers. Of the 50 who came from Rockport, six were discharged with disabilities and ten did not survive the war. Two – Nathan Hawkins and Ansel Jordan – were captured and died of disease in Andersonville Prison in Georgia. Many of the men came from families whose names are still familiar to use today: French, Gleason, Tegardine and Andrews. Jacob Tegardine, who enlisted at the age of 20, later served as the fourth Mayor of the Hamlet of Lakewood (from 1900-1901). His home at the southwest corner of Detroit and Warren served as City Hall for many years.
Rockport resident and soldier Latimer Dike kept a diary during the war. Most of his entries are brief and matter of fact, but he did mentioned some of the items he made as the cook for the 67th Ohio Regiment, including gingersnaps, bread pudding, rice pudding and lots of pies.
The Rockport men served in sixteen different units. The largest number (14) served in the 103rd Ohio Volunteer Infantry. The 103rd was involved in the General Burnside's campaign in eastern Tenneesee, the siege of Knoxville, the siege of Atlanta, the Nashville campaign and several other military actions. The regiment also spent the winter of 1862 and 1863 encamped near Frankfort, Kentucky, where they helped buid Fort Hill. The original forts is still standing today.
2011 was the 150th anniversary of the beginning of the Civil War--an appropriate time for the Lakewood Historical Society to consider Rockport Township's participation in the war. For more information on Lakewood's fascinating history, go to www.lakewoodhistory.org.
Read More on Historical
Volume 8, Issue 5, Posted 10:19 PM, 03.07.2012