Interview With Radio Legend And former Lakewood Resident, Jeff Kinzbach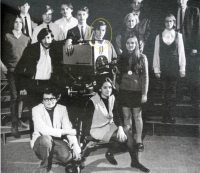 Jeff Kinzbach was a broadcaster and spent nearly thirty years in the radio business. For twenty of those years he was the morning personality at WMMS in Cleveland, Ohio that earned record high ratings. Kinzbach and the rest of WMMS were major players in the drive to bring the Rock and Roll Hall of Fame to Cleveland. He is a member of the Radio Television Broadcaster's Hall of Fame and now lives in Dallas, Texas with his wife and daughter. This interview is dated Dec. 22, 2011.

Again, I don't want to take a lot of your time:

As a youngster growing up in the 60s in Lakewood, Ohio, how did you first become involved with WMMS?
I was always interested in radio as a kid. I built everything from crystal sets to shortwave radios from kits. I would put up large antennas so I could listen to shortwave radio stations from all over the world. When I was 9 years old my Mom bought me a cheap little tape recorder. She was a single Mom raising 3 kids by herself so we didn't have much money. But that kit enabled me to put together sounds which later led me into radio. When I went to Horace Mann Jr. High, in 8th grade, I met 2 kids that became my best friends, Tom Kelly and Steve Lushbaugh. We liked music and we all liked radio. We all became members of the Television Crew at Lakewood High in 10th grade. John Newland was the instructor and he was great. We learned a lot and we became involved with an internship program at WUAB-43 in Parma. My sister, who was 5 years older than me, married a TV director from WTOL in Toledo. So I was hooked.
In 10th grade I called every radio station looking for a job. Finally, one of them hired me to answer their request lines - WIXY-1260. It was a huge radio station and it was a thrill to be a 10th grader and to work for WIXY. I met great radio personalities like Chuck Knapp, Lou King Kirby, Chuck Dunaway, Big John Roberts and Billy Bass. Steve and Tom would always come up to the station and hang out with me. We all got to know Billy Bass pretty good. When I was in 12th grade I landed a job on the air at a radio station in Flint, Michigan. I had been visiting my sister that summer and ended up finishing high school there and working at the radio station. Tom Kelly replaced me at my job with WIXY. As time went by, Billy Bass left WIXY to do a start up of a new type of radio (progressive rock) at WNCR-FM. Not many people were listening to FM at the time but Billy put together a great staff and they were playing some really great music like Led Zeppelin, Emerson Lake and Palmer, etc. He hired Tom Kelly and Steve to work there too. The 3 of us always remained very good friends. I was working in Michigan and did part-time stints at CKLW, and WCAR in Detroit.
In 1972, Tom Kelly called me and said that Billy Bass had left WNCR and started working at WMMS-FM. This was to compete with WNCR which had made some changes that Billy Bass and the rest of the air-staff did not like....Steve and Tom followed them to WMMS. WMMS was owned by Metromedia and they were having success with progressive rock in Philadelphia, San Francisco and Los Angeles so they tried it in Cleveland. In 1973 I received a call from my friend Tom. He was being transferred to KMET in Los Angeles and WMMS needed a production director. They could not find one. So I applied and was hired. I did all of the production of commercials and promotions and filled in on the air when needed. While there, I met a guy who was writing news for our sister station, WHK....his name was Ed Ferenc....and we became good friends. In 1976, they asked me to do the morning show. Ed "Flash" Ferenc would be the newsman.

As I recall during the 60s the we all know the competitive radio in Cleveland market included AM stations WIXY, WHK, WKYC, but also CKLW in Windsor...many younger people are unaware that CKLW dominated local Cleveland radio during the late 60s...any thoughts about the competition and, prior to WMMS emergence, where was your AM dial tuned?
Since I was a big fan of radio, I was listening to WIXY, WKYC, CKLW, WLS and WCFL in Chicago and WABC in New York. I listened to Big Jack Armstrong, Wild Child-Dick Kemp, and all the rest in Cleveland as well as John "Records" Landecker, and Bill Bailey at WLS, Bob Dearborn and Larry Lujack on WCFL. Needless to say, Ted Richards, The Duker (Larry Morrow), Jim Jackson and plenty more on the Big 8 CKLW. It was great radio with great personalities and content. I was young and knew that the "new" radio was emerging on FM. The signal was cleaner and the music sounded so much better with all that dynamic range that FM provided. Also, the teeny bop music was on AM.....we played good rock on the FM. Many people had to buy FM converters because the car radios did not have too many FM radios at the time. We did not really worry about competition....we just built a radio station that we wanted to listen to. And it turns out we were correct. We were tired of the formula top 40 and while the AM's were playing Donny Osmond, we were playing David Bowie and Bruce Springsteen. We also played music with very few interruptions. And it did not take long for people to find us. It wasn't always an easy path but we stuck with it and learned a lot. And we became very defensive when a competitor would try to worm their way into our format.
Growing up on Westlake Avenue I've heard you attended Horace Mann Jr. High...true? Any special memories of Lakewood schools and Lakewood in general?
Growing up in Lakewood was great. Our street, Westlake, was loaded with kids. We played football in the street, we played tackle football and baseball at Andrews Park behind Manner's Big Boy. We would walk the tracks to the store, get ice cream at Franklin's, ride bikes and swim at the pool all summer at Lakewood Park. My Mom would sew the metal swimming pass tag onto our swimming trunks. We played outdoors and had a lot of fun. At night I would turn on the radio. We did not have air conditioning or an attached garage. But we had a great park system and we had fun. Who remembers sneaking into Clifton Park and the beach? How about slot car racing? On the way home from high school we would stop in at Melody Lane and buy 45's. There was a little t-shirt shop in the back of the store...it was run by Daffy Dan. It was his first business that eventually became huge. I was a quiet kid in school. Horace Mann was just ok. I learned to type there. Ha. But, Lakewood High was really good. I took electronics, was a member of the TV crew, and learned to drive a car with brand new cars that were provided. Not bad. I often wonder whatever happened to all the kids that I grew up and went to school with. Most were really good kids. They can find me on Facebook if they want. I have never been a big fan of reunions. Guess I should have been.

Finally any wish list items, such as "if I had the power I'd put so and so in the Rock Hall of Fame", or "if I had my way, so and so would NOT be in the Hall of Fame", or "I should have gone into computers instead of radio"?
I really don't have a wish list. I pushed really hard to get the Rock Hall in Cleveland. There is plenty of time to get all of our favorites into the Hall. However, an old friend of mine, Barry Gable, had a great observation....Bruce Springsteen is in the Rock Hall. But, shouldn't the E. Street Band be in too? Music is the common thread that bonds all of us...I think the Rock-n-Roll Hall of Fame does a great job...and I'm glad it's here. There are not too many things I would change. I have been blessed to have grown up with some of the greatest music and to have been in radio at that time, especially WMMS. What a ride. I am a big fan of this area, but most of all, the people here. I believe they deserve better. I have a very low tolerance for corruption in government. Maybe I need to run for office but we all need to work together and do better. Politicians, unions....all of us have to step up and do better. I have not told anyone this....but I will mention it to you. A lot of people have given up on radio. It is not the same great product that it once was. But I miss it. I think if you have the right quality product, people will embrace it. So, you never know, I might be back.

Thanks for your time...you are fondly remembered by many, many listeners.

Thanks for the kind words. -30-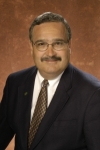 Thomas George
50+ years proud Lakewood resident BA Journalism, THE Ohio State University, Columbus, Ohio, general assignment reporter Ohio State Lantern daily newspaper active in civic and community affairs in Lakewood all my adult life
Read More on Historical
Volume 8, Issue 5, Posted 1:18 PM, 03.07.2012