Graham Veysey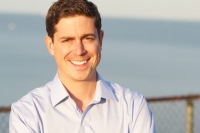 1) What makes you the best candidate for the 9th District?
As the only fresh alternative in this race, I can bring an approach that is much needed – a common sense approach. Congress is broken. It has just a 9% approval rating, the worst ever. It is broken because people have lost faith in Congress. Our country is in a fiscal crisis. We have a $15 trillion debt which will become $26 trillion in 10 years unless we do something about it. Congress is not going to be fixed by two people who have been politicians for a combined 70 years. Kaptur and Kucinich are creatures of Congress and care more about scoring political points than policy solutions.
I am a small business owner and entrepreneur. I know what it is like to forgo a pay period to make sure that the employees get what they've earned. Congress doesn't understand that logic. That is why they have racked up the debt, which threatens investments we need to make in job creation and economic recovery, education, and the environment.
I'm calling for the implementation of the bipartisan debt-commission report that both of my opponents ignore. Congresswoman Kaptur would like to address our fiscal crisis with the same committees that got us into this mess in the first place. The failure of the Appropriations and Budget Committees created the so-called "super committee" which was a super failure. Congressman Kucinich won't implement the plan because he refuses to admit that there is a fiscal crisis at all. I can give him 15 trillion reasons why he is wrong.
The March 6 Primary is a referendum on Congress. Any registered voter can participate in the primary – Democrats, Independents/unaffiliated voters and even Republicans can pull the Democratic ballot and influence this election and vote for the future instead of the same old, same old.
2) What do you see as the greatest problem for this District in the next two years?
JOBS. JOBS. JOBS. The new 9th district can't let the economic recovery bypass us like the last one did. I have the energy and understanding of the hyper-connected global economy so that we shed the rust belt image and become known as the digital belt.
The jobs that we create through public-private partnerships need to be jobs that compete in the age we are in. We need to build on our manufacturing base because we make the best things in the world here in Northern Ohio. I'll be a Congressman that realizes our full potential and that the goods we make can be sold not only in other parts of Ohio and America but all over the world.
We need to create jobs for today and jobs of the future that address the poverty that is rampant in this new 9th district. Congresswoman Kaptur's Toledo experienced the highest rise in poverty in America and Kucinich has represented Cleveland which has the second highest poverty rate for big cities in America. We need to create jobs in order to alleviate the poverty along the new 9th district. Kucinich will talk about the wars in Iraq and Afghanistan but the War on Poverty is being lost and I will be the new soldier in that fight by making sure we have a two-pronged approach of breaking the cycle of poverty through investments in early childhood development that focuses on traditional pre-K while elevating the focus on further parental education both at home and at post-secondary educational institutions. If we don't make sure that we fight to break the cycle of poverty, then we'll be having the same conversations in 15 years about the abysmal graduation rates and won't be competing globally.
3) What is your vision for cities/suburbs like Lakewood and how will you use your position in Congress to fulfill this vision?
We have to invest in our cities. It is disappointing to see that although cities produce 80% of our economic activity, they were the direct recipients of just 8% of the American Recovery and Reinvestment Act. Instead, money went to the states that add bureaucracy and geographic bias. We need to make sure that we invest in places where economic activity occurs so that we get the biggest bang for our hard-earned dollars.
Places like Lakewood thrive because of their neighborhoods and the relationships residents have with each other. Needed focus has been turned to the foreclosure crisis that decimated certain neighborhoods. I'm encouraged with the settlement with the predatory mortgage peddlers but know we can do more. Those dollars need to be invested in neighborhoods with leadership that has a plan to address the problem house by house, block by block.
Congress continues to reduce Community Development Block Grants (CDBG) that are helping to maintain and revitalize neighborhoods instead of looking at the efficiencies in communities that are spending wisely. That is why I will propose a race to the top, not in education, but in CDBG funding.
Cities across the country -- but particularly in Northern Ohio -- are confronted with aging infrastructure like sewer and water treatment facilities that are in desperate need of an upgrade. Climate patterns and technology are vastly different than when city leaders of yesteryear put these systems in place. The Federal Government and Congress have the opportunity to act as catalysts or obstacles to moving these projects forward. To date, they've been more of an obstacle. In Congress, I will fight to be an effective catalyst.
Graham Veysey
I'm a Democrat running as a fresh alternative for Congress in Ohio's newly-drawn 9th District.
www.grahamforcongress.org
Read More on Features
Volume 8, Issue 4, Posted 10:02 PM, 02.21.2012