AM Radio Ruled The Airwaves
Radio has informed, entertained and inspired area residents since its inception.
AM was king for the first fifty years of radio. Early local AM radio included stations WHK which began broadcasting in 1922 and WTAM which quickly followed and began on the air in 1923. Their formats included news and regular network entertainment shows including "the Shadow" and the "Green Hornet" which usually originated in New York City. By 1930 WTAM was broadcasting Indians baseball games live from League Park. FM, invented in 1933, was available but scantly listened because most radio receivers did not include an FM dial.
Lakewood was home to many early radio personalities including Wayne Mack and Bill Randle. According to Wayne Mack's Encyclopedia of Cleveland Radio History, Randle is credited with promoting then unknown singers such as Tony Bennett and Rosemary Clooney (George's mom).
While AM radio was the king of the airwaves during the early years of radio broadcasting, FM eventually grabbed the listeners' ears. It wasn't until 1961 that both General Electric and Zenith independently invented a stereo FM system that received government approval.
Still, due to the lack of FM receivers, many FM stations had very low listenership. Jeff Kinzbach, legendary WMMS air personality and former Lakewood resident recalls, "the signal was clearer and the music sounded so much better with all that dynamic range that FM provided. Many had to buy FM converters because the car radios did not have too many FM radios at the time." As with today's college radio stations, cutting edge or classical music was the standard FM format.
Kinzbach, a former Westlake Avenue, Horace Mann Junior High and Lakewood High student, was always interested in radio and landed a job as a 10th grader at WIXY answering phones. Several years later, Horace Mann classmates Tom Kelly and Steve Lushbaugh reunited with Kinzbach at local FM station, WMMS. Kinzbach, while at WMMS helped launch the careers of Bruce Springsteen and others and was a leader in the move to bringing the Rock Hall to Cleveland.
Kinzbach remembers, "on the way home from high school we would stop at Melody Lane and buy 45s. There was a little t-shirt shop in the back of the store…it was run by Daffy Dan. It was his first business that eventually became huge."
By 1978 FM finally overtook AM radio and had more listeners.
Alan Freed was an Akron radio announcer and personality who got a job with Cleveland radio station WJW 850 in 1951 where he, at the suggestion of the owner of Record Rendezvous, began to play rhythm and blues music. This eventually led to his "Moondoggers" and the Moondog Coronation Ball, held on March 21, 1952 at the Cleveland Arena.
However, during this early period of rock and roll, the major local station to adapt a rock and roll format was WHK, 1420. Because of its tremendous popularity, eventually other local stations followed suit including WKYC 1100 and WIXY 1260.
Most local radio histories will discuss the popularity of these local stations, particularly WIXY 1260 which had a strong following. However, many today might find it hard to believe but the number one rock and roll radio station during the peak years 1965-1970 was Canadian radio station CKLW 800.
At its peak, CKLW was the third most listened to radio station on the planet. According to the CKLW web site there were reports, with the right atmospheric conditions, the Big 8 could be heard in Scandinavia. Arbitron ratings in 1967 and 1968 rated CKLW the number one rated station in Cleveland, Detroit and Toledo.
"The Big 8" played a what was known as a "boss radio" format with a nearly continuous stream of "much more music."
On a clear Lakewood evening, an adapt radio tuner could also pick up the newest rock and roll hits on stations WABC in New York, WBZ in Boston and WLS and WCFL in Chicago.
Today we enjoy quality sound delivered by expensive sound systems and Sirius Radio. However many Lakewood residents nostalgically recall hearing today's rock classics over the grainy AM airwaves emitted from Canada and other far off locations.
-30-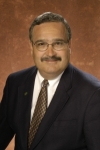 Thomas George
I am a 50+ years proud Lakewood resident with a BA in Journalism. The Ohio State University, Columbus, Ohio, general assignment reporter Ohio State Lantern daily newspaper. I have been active in civic and community affairs in Lakewood all my adult life.
Read More on Historical
Volume 8, Issue 3, Posted 9:45 PM, 02.07.2012