Spine Poetry For Teen Read Week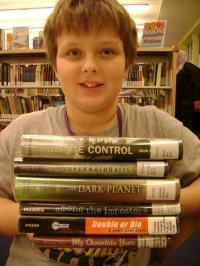 The Lakewood Library celebrated Teen Read Week from October 16 to October 22! Wednesday, October 19, was our Spine Poetry program. Spine poetry is created by finding book titles you like and stacking them. The book titles become the lines of the poem.
Julie Strunk
I'm a supervisor in the Children's and Youth Services Department at the Lakewood Public Library.
Read More on Library
Volume 7, Issue 23, Posted 4:43 PM, 11.15.2011