She Is Forever Blowing Bubbles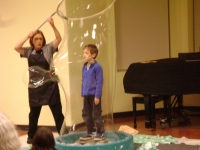 What do you get if you remove the Crocs from your feet, dip the shoes in a bucket of soapy water, and blow on them? You get bubbles! If this idea has never occurred to you, you are not alone. But it has occurred to "The Bubble Lady," Sue Durante. Close to 100 people enjoyed her creative antics and watched the bubbles fly during a recent performance at the Lakewood Public Library.
Children and adults were amazed as they witnessed her inflating tiny bubbles, long bubbles, giant bubbles, and a remarkable square bubble. Sue searches her home for everyday household items that become the tools for producing remarkable frothy creations. A piece of rope, a mesh strawberry basket, and the plastic holder from a 6-pack of soda were among the numerous objects that enabled The Bubble Lady to construct magnificent balloons of soap. The feat that drew the most enthusiastic response from the crowd involved a small wading pool filled with sudsy water, and a hula hoop with a handle. Several participants were chosen at random to step, one at a time, onto a concrete block that was placed in the center of the pool, and marvel as Sue raised the hoop from the liquid and enveloped them in a giant, glistening bubble. The Bubble Lady is always one of the most popular entertainers at Family Music and More.
The next Family Music and More program at the Lakewood Public Library will be a showing of the movie Gnomeo and Juliet on Saturday, November 26 at 7:00 p.m.
Read More on Library
Volume 7, Issue 23, Posted 4:43 PM, 11.15.2011