Art Explosion's Eighth Season Finale Approaches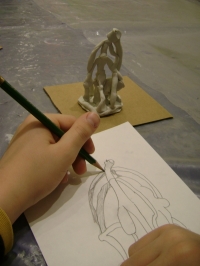 Lakewood Public Library's art program for middle school age children is now in its 4th year, having eight successful seasons under its belt. This latest season featured a mixed bag of projects including the creation of Abstract, Representative, and Non-Objective pieces, Limited Pallet paintings, Non-Portrait self portraits, and even a special Halloween Zombie Makeup workshop. All of these works of art and more will be on display to the public during the Art Explosion Art Show, happening Saturday, November 19th, from 3:00pm to 5:00pm in the Main Library Multipurpose Room. Join us for refreshments, a slide show, and an excellent selection of works by our amateur artists.
Nicka Petruccio
Nicka Petruccio works at the Lakewood Public Library in the Children & Youth Services Department.
Read More on Library
Volume 7, Issue 22, Posted 1:17 PM, 11.01.2011