Our Centennial City: Lakewood's Antiques- The Ludwig 1909 Bass Drum Pedal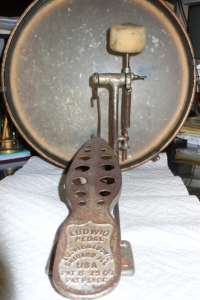 Here's a remarkable invention (the same age as our Lakewood home) that, although not directly related to Lakewood, has deeply affected the music that we listen to today. In 1909, William and Theobald Ludwig were brothers in the Chicago area who started what would later become the world-famous Ludwig™ drum company by introducing a foot pedal beater mechanism that could play a floor-mounted bass drum.
Previous to the development of such a device for drummers, an orchestra pit drummer would have needed to be quite an acrobat to play several different drums at the same time. This pedal, as well as a similar "snowshoe" type pedal that could play the cymbals, revolutionized what would become known as the "trap set"...a true sound effects center for drummers in those days of live theater. Train whistles, temple blocks, slap sticks (for whip effects), and other noisemakers were all employed by drummers in those days before there were recorded soundtracks for live shows or movies in your local theaters. In the days before televised entertainment, Lakewood enjoyed an amazing abundance of those live entertainment theaters, a number of which are still standing today.
The Ludwig bass drum pedal started the drumming world going in a whole new direction. Not only could one drummer do the work of several, but it was not very long before the live theater community realized that drummers could very well become a show unto themselves. The legendary drummer Bernard (Buddy) Rich was born to show business parents in 1917, and reportedly began his live vaudeville drum set performances onstage at the age of 18 months! Buddy's spectacular drumming career spanned well into the 1980's.
In the 1920's there developed a variety of outstanding drumming personalities like Sonny Greer and Warren "Baby" Dodds in the world of jazz. In the 1930's, drummers like William Henry "Chick" Webb, "Papa" Jo Jones, and Gene Krupa came into their own, and the drumming world would never be the same. In the late '40's and '50's, during the time of "cool jazz"and "be-bop," other outstanding drummers like Joe Morrello, William "Cozy" Cole, Elvin Jones and others showed the world how the drum set could indeed be a complex interpretive instrument. And of course, when the days of Rock and Roll took off, the bass drum pedal was right there too. From D.J. Fontana's days with Elvis, through Ringo Starr of the Beatles, Keith Moon of The Who, and John Bonham of Led Zeppelin, the bass drum pedal kept time for the pulse of the world of modern music, and still does.
Although now over a century old, this particular pedal saw regular use in and around Lakewood, helping to keep the pulse for the music of this city until just a few years ago... and it still works just fine today!
Read More on Pulse of the City
Volume 7, Issue 20, Posted 7:27 AM, 10.05.2011