NEED HUMUS? Keep Lakewood Beautiful Humus Sale October 8th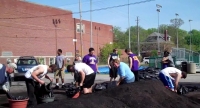 Keep Lakewood Beautiful (KLB) is hosting their Fall Humus Sale again this Saturday, October 8, from 9 a.m. to 12 p.m. at the Skate House at Lakewood Park. Humus is that dark, nutrient rich, organic "stuff" that is great for your weary summer plants, new fall plantings, or winter garden protection. KLB volunteers will be assisting with the sale while the Lakewood High School baseball team will be providing the "muscle" to shovel and carry the humus bags to your car. Humus will sell at 2 bags for $5.
Proceeds from the sale will go to supporting our 50+ Adopt-A-Spots and many other beautification, recycling and litter prevention projects in our city. As you are out and about, be sure to notice the fabulous efforts of our 150+ volunteers who care for all of these Adopt-A-Spot gardens located throughout our city.
Also be sure to look at one of our other projects: the W. 117th Street Gateway Park on Detroit Avenue. KLB secured a Community Block Grant Fund and, along with assistance from the city, commissioned Brian Moran of Kinetic Gardens to redesign that green space. New trees, flowers, a walkway, and a sprinkler system were added to make that entrance to our city most welcoming, so stop by and enjoy the scenery.
KLB has also been busy choosing homes for our Beautiful Home Awards. This long-time tradition in Lakewood honors residents who have done an outstanding job of maintaining and beautifying their home and surrounding area. Community residents can send in nominations and the Board members choose a beautiful home in each of the 7 elementary school districts in Lakewood. Winners receive a Beautiful Home Award and are recognized at our Adopt-A-Spot Appreciation Breakfast in November.
We appreciate what residents do to make their homes and yards spectacular and continue the tradition of a city of beautiful and unique homes. Look for this year's winners to be announced shortly and find more information on our website, OneLakewood.com/KLB and on our Keep Lakewood Beautiful facebook page.
We hope to see you on Saturday for the Humus Sale at Lakewood Park, and hope you continue to recycle your plastics, cans, glass and paper, brown-bag your yard waste, compost, ride a bike, shop local, put litter in trash cans and whatever else you do to Keep Lakewood Beautiful!
Melissa Meehan
Melissa Meehan
Read More on Lakewood Living
Volume 7, Issue 20, Posted 9:51 AM, 10.05.2011