Getting to Know the Phoenix Project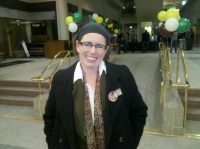 The Phoenix Project is a four-year-old new church development of the Presbyterian Church. The church has recently moved from 13351 Madison Avenue to 13613 Detroit Avenue. With a presence on Detroit, the Project hopes to bring its same brand of all-inclusive community outreach to a greater audience. I asked Phoenix Project founder Reverend Meredith White-Zeager about the church and its work in Lakewood.
What is the mission of the Phoenix Project?
The mission of the Phoenix Project is to provide a safe space for people to engage the divine in their lives, their neighborhood, and the world, however people may understand the divine. We are less about telling someone how to encounter God and more about empowering people and allowing them to recognize the already present experience of God in their lives.
In what ways are you connecting to the community?
We're excited to have more open hours at the new place--Monday-Friday between 12 and 8 p.m.--for long-time members or for new faces to drop in to use our computers, enjoy our comfortable environment, have great conversations, a quick bite to eat, or work on a project. In addition to the Phoenix Project standard fare (worship at 5 p.m. on Sunday and a Theology Pub at Sullivan's Pub at 8 p.m. on Monday), members are planning a few more ideas for the coming year. We are working to create a safe space and discussion group for LGBT teens and young adults in the community. We also have plans to host regular thought-provoking and community-building events including movie nights with discussion afterward and regular open mic nights, both beginning in October.
Meredith, could you tell me how you came to be a minister?
Well, the question I asked that led me to pursue ministry was, "What can someone in the U.S. do about situations of global poverty and oppression, and why should we care?" A mission trip to Guatemala led me to this line of questioning as I tried to figure out how to share my experience and deep concern with my friends at home. The answer that was most compelling to me was that we are truly connected to one another through a divine spirit and that when poverty and injustice threaten any of us, we are all threatened and made less than we could be. Although I still hold on to that big picture, my journey through seminary and into church development has narrowed the focus quite a bit.
Today, I believe that it is the calling of every individual to serve the Christ-Commandment to love God, neighbor, and self in whatever context they find themselves and to teach others to do the same. If we were each to embrace this calling in our lives and communities, I believe that we would begin to see the end of injustice, terror, and poverty around the world. At the Phoenix Project, we summarize this goal in our five-part mission statement: Participating in what God is doing in the world, celebrating the gifts we've been given, recognizing the needs of our community, responding with our whole selves, and empowering others to do the same.
Read More on Non-Profit
Volume 7, Issue 20, Posted 9:51 AM, 10.05.2011